Marcus D. Wright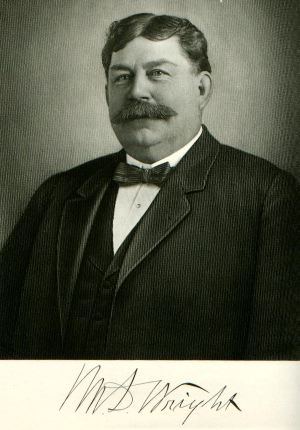 (Click on picture to view larger image)
"Spokane and The Spokane Country - Pictorial and Biographical - Deluxe Supplement." Vol. II. The S.J. Clarke Publishing Company, 1912. (No author listed.) pgs. 130-132.

OCCUPYING a place in the foremost ranks of those who have made a fortune in the development and exploitation of the timber lands of the west is Marcus D. Wright, who resides at Hayden Lake, Kootenai county, Idaho. A native of the Mississippi valley, he came west in 1871, at the age of twenty years, his birth having occurred in Bowling Green, Kentucky, April 16, 1851. His parents were John W. and Mary (Gibson) Wright, the former a prominent Baptist minister of Kentucky.
Marcus D. Wright obtained his education in the common schools of Kentucky and at the age of sixteen years entered business life as a salesman for a pump concern in St. Joseph, Missouri. He was employed in this capacity for four years when he gave up his position and went west, locating in Montana. There he conducted a freight-ing business in summer and drove a stage during the winter for the following six years. In 1877 he accompanied General Sherman on his tour of inspection of all the frontier posts, covering the territory extending from Montana over the old Mullen road to Walla Walla, Washington. Subsequently he resided in Colfax, Whitman county, Washington, where he drove a stage until 1878. In that year he came to Spokane and engaged in the livery business, buying out the stable owned by James N. Glover. In 1881 he gave up this enter-prise and went to Idaho to look over the prospects for an investment in real estate. Finding a suitable tract of land, he purchased a half-interest in forty acres from C. W. Wood and on that site laid out the town of Westwood, now known as Rathdrum. In conjunction with George B. Wannacott he called a meeting of the residents of this locality and organized Kootenai county. He was appointed the first assessor and tax collector, as well as deputy sheriff, serving in these positions until the first general elections of the county. In Oc-tober, 1882, during the great mining excitement in this section of the country, Mr. Wright took the first pack train into Pritchard Creek, Eagle City, Idaho. Two years later he engaged in business at Rathdrum, Idaho, conducting a general mercantile establishment and also contracting to railroads for the sale of timber and ties. The latter branch of his business increased so rapidly that he discontinued his general mercantile establishment and has since that time concentrated his entire attention upon the lumber business, furnishing lumber sup-plies mainly to the Northern Pacific Railroad. Within the last twenty-three years he has supplied approximately twenty million ties which, at a rough estimate, would be sufficient, if laid end to end, to circle the globe. He was also financially interested in the First Na-tional Bank of Coeur d'Alene, of which he was president for several years, resigning in 1910 in order to devote his undivided attention to his lumber interests.
On March 18, 1881, Mr. Wright was united in marriage to Miss Bertie Piper, a daughter of Dr. John J. Piper, of Peone Prairie, Washington, who was for twelve years one of the county commissioners of Spokane county, Washington. Mrs. Wright passed away in 1901, being survived by her husband and seven children, two sons and five daughters. In 1903 Mr. Wright was again married, his second union being with Mrs. Marie Bennett, a step-daughter of A. M. Cannon, of Spokane, Washington. Fraternally Mr. Wright is con-nected with the Elks Lodge, No. 228, of Spokane; the Knights of Pythias, of Coeur d'Alene; and the Odd Fellows of Coeur d'Alene. The Wright home is known as one of the handsome residences of this locality, being situated at Hayden Lake, on one of the finest farms in the state of Idaho, a tract of land comprising about six hundred acres. It contains a fish preserve covering an area equivalent to one hundred and sixty acres, which is filled with black bass and trout, and affords some of the finest opportunities for fishing in the state. Never losing sight of the goal which lay before him, Mr. Wright has been steadfast in the pursuit of his ideals and by dint of close application and unceasing effort has won his reward in the generous measure of success which has been his.
Submitted by: Nancy Pratt Melton
* * * * Notice: These biographies were transcribed for the Washington Biographies Project. Unless otherwise stated, no further information is available on the individuals featured in the biographies.
---