Martin J. Costello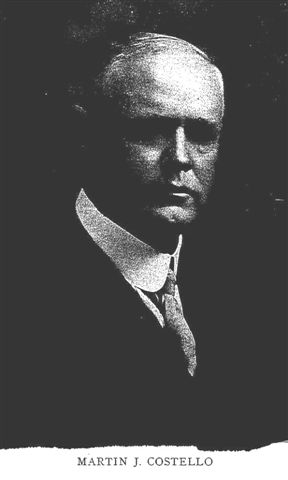 "Seattle and Environs, 1852-1924." Vol. 3. Hon. C. H. Hanford, Editor. Pioneer Historical Pub. Co., 1924. p. 8.
MARTIN J. COSTELLO
Martin J. Costello, western traffic manager of the Great Northern Railway Company, is one of the well known railroad transportation men of the west. Mr. Costello is a distinct product of the Hill school of railroad men. His identification with the great Hill interests dates back more than forty years to the time when the Great Northern was in its formative period, and his entire subsequent career has been in connection with the building up and development of this great transcontinental system.
Martin J. Costello was born in St. Paul, Minnesota, on the 29th of July, 1862, his parents being James and Mary (Mulcare) Costello, who were born, reared and married in Ireland; and coming to the United States in the early '50s, they located in St. Paul, but later resided elsewhere in Minnesota. Both are deceased.
Martin J. Costello attended the grade and high schools of Elk River, Minnesota, and after mastering telegraphy entered the service of what was then the St. Paul & Pacific Railroad, which later became the St. Paul & Manitoba and eventually the Great Northern Railway Company. He acted as telegraph operator at the Mississippi street shops of the corporation in St. Paul for one year, subsequently spent a number of years as agent at Elk River, Minnesota, and later became traveling freight agent at Fargo, North Dakota. Next he was made general agent at St. Paul, where he afterward discharged the duties of industrial agent until the fall of 1907, when he came to Seattle as assistant traffic manager of the Great Northern Railway Company, which later made him manager of the traffic department. In his present responsible and important position he is making a splendid record for efficiency and his services are acknowledged a valuable asset in the successful control of this great railroad corporation.
In 1884, at Elk River, Minnesota, Mr. Costello was united in marriage to Miss Elizabeth Galley, a daughter of Henry Galley of that city. Mr. and Mrs. Costello have four children: Grace Mary, who is the wife of Capt. E. P. Erckenbrack, North Pacific Coast director of the United States Shipping Board, and the mother of three children, Mary Elizabeth, Eugene P., Jr., and Elizabeth Jane; Cyril Costello was educated in St. Paul and in the University of Washington, and is now a well known architect of Seattle. He is married and has two sons, Martin J. and Robert; James Costello also attended the schools of St. Paul and the University of Washington, is engaged in the wholesale lumber business in Seattle, and is married and has a son, James, Jr.; and Eleanor is attending school. The religious faith of the family is that of the Roman Catholic church and Martin J. Costello also has membership connection with the Rainier Club, the Arctic Club, the Press Club and the Chamber of Commerce. He has justly won the title of a self-made man, having worked his way steadily upward from a humble position. To speak of his business connection alone, however, would be to give but a one-sided view of his nature, for there is within him a, strong civic spirit, manifest in hearty helpfulness toward any plan or project that looks to the betterment of conditions both in his capacity as a railroad official and as a public-spirited and loyal resident of Seattle. In a word, he stands for all that is best in American manhood and citizenship.
---
Submitted to the WA. Bios Project in February 2011 by Diana Smith. Unless otherwise stated, no further information is available on the individual featured in the biographies.