Mark Wood Merritt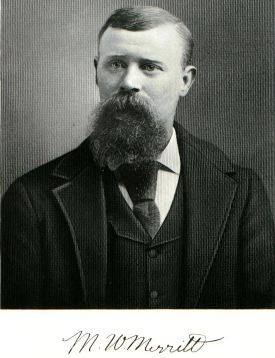 (Click on picture to view larger image)
"Spokane and The Spokane Country - Pictorial and Biographical - Deluxe Supplement." Vol. II. The S.J. Clarke Publishing Company, 1912. (No author listed.) pgs. 142-144.

NOTABLE among the proprietors of heavy landed interests in Washington is Mark Wood Merritt, of Rosalia, Whitman county, now living a life of comparative retirement. He was born in Pike county, Missouri, October 4, 1854, his parents being Thomas and Susan (Suddreth) Merritt, both natives of Virginia. The Merritt family is of French origin, the grandfather, Nicholas Merritt, and the great-grandfather both having been born in France. The latter took part in the Revolutionary war and the grandfather, who settled in Maryland, was a soldier in the War of 1812.
Mark Wood Merritt was educated in the common schools of Pike county, Missouri, and pursued his studies until 1873, when he devoted his entire time to assisting his father in the work of the farm, thus continuing until 1877. In that year he rented a farm in Missouri and continued farming on his own account in that state until the spring of 1882, when he decided to remove to Whitmnan county, Washington. After arriving in this state he settled two miles east of Rosalia where he took up one hundred and sixty acres of government land and from time to time increased his holdings until he now possesses eight hundred acres in that community. He also owns twenty thousand and eighty acres in Douglas county, Washington. He has given a great deal of attention to the raising of stock, his specialty being the breeding of fine horses of which he owns one hundred and fifty-three head. During his active career as a horse-breeder he achieved a national reputation having sold his horses in all parts of the United States. Another important branch of his farming activity was dairying, his operations along that line being quite extensive. Beside the heavy landed interests Mr. Merritt possesses, he is also a director of the First National Bank of Rosalia, a director in the Rosalia Telephone Company and a director and the president of the Rosalia Supply Company.
Mark Wood Merritt was married to Miss Edna Wells in Pike county, Missouri, in 1878. She is a daughter of William E. and Martha (McCoy) Wells, both natives of the state of Missouri. To this union were born four children: Henry, residing in Whitman county, who is married and has two sons; Martha, the wife of Allen McClaine, of Pearl, Washington, and the mother of two daughters; Richard, yet at home; and Jesse, who died at the age of nineteen years.
The political allegiance of Mr. Merritt is given to the democratic party, for the measures and candidates of which he always casts his vote and he has held the office of road supervisor for eight years. He also takes a great interest in educational matters, having been a member of the local school board for twelve years. Fraternally he is a member of the Masonic order and of the Woodmen of the World. He is also active in his membership in the Commercial Club of Rosalia.
Prime factors which have conduced to the attainment of Mr. Merritt's unusually prosperous and useful business career have been his great business ability, his untiring industry, his habits of economy and the wise direction and management of the properties which he began to accumulate comparatively early in life. He started out in the business world single-handed and alone to carve a career which logically followed as the result of his own well directed efforts along business lines. He had the courageous spirit in abundance and was not afraid to make investments which his common sense and intuition told him would prove profitable. He reveled in work, took a keen interest in the management of his business affairs and gave unflagging attention to all the details which a business life entails. After serving his community and in fact the district at large in the useful ways outlined above Mr. Merritt has been enabled at a comparatively early time in life to retire from the active and more onerous duties which he followed long and successfully. In return he is now enjoying life, surrounded by an extensive circle of warm personal and business friends among whom he has always been held in the highest esteem and regarded with the greatest respect.
Submitted by: Nancy Pratt Melton
* * * * Notice: These biographies were transcribed for the Washington Biographies Project. Unless otherwise stated, no further information is available on the individuals featured in the biographies.
---