George M. Nethercutt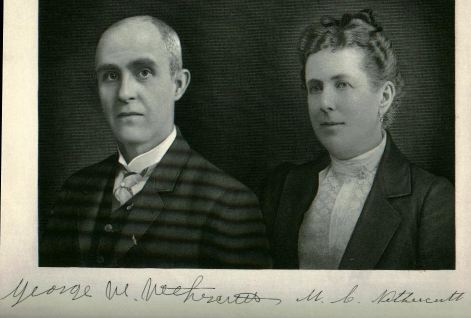 (Click on picture to view larger image)
"Spokane and The Spokane Country - Pictorial and Biographical - Deluxe Supplement." Vol. II. The S.J. Clarke Publishing Company, 1912. (No author listed.) pgs. 258-260.

GEORGE M. NETHERCUTT, practicing at the Spokane bar, was born at Grayson, Carter county, Kentucky, September 4, 1864, a son of Moses and Katherine (Mauk) Nethercult. The father was municipal judge of Grayson at the time of his death. In the public schools of his native place George M. Nethercutt began his education, which was continued in Mount Sterling, Kentucky. In the spring of 1889 he came to Spokane and was engaged in the building and real-estate business for a period of ten years, but thinking to find professional pursuits more congenial and also more profitable, during the latter part of that decade he devoted his leisure hours to the study of law under George W. Stocker, who is now police judge of Spokane, and the late W. Abbott Lewis. In 1898 Mr. Nethercutt was admitted to the bar and has continued to follow his profession with success since that day, and in 1903 he was admitted to practice in the United States supreme court. Since entering upon his practice he has made a creditable record owing to the care and precision with which he prepares his cases and the strength with which he presents his cause, his deductions following in logical connection. He is now attorney for the Equitable Life Assurance Society, doing special work for that institution with offices in Spokane.
On the 16th of October, 1889, in southeastern Colorado, Mr. Nethercutt was united in marriage to Miss Mary C. Wilcox, a daughter of Isaac N. Wilcox, of that state. In November, 1910, Mr. Nethereutt was called upon to mourn the loss of his wife, whose death was deeply deplored by a large circle of friends and by the church in which she was a most active and helpful worker. Indeed she was beloved by all who knew her and she had a very wide and extensive circle of friends. She was actively and helpfully engaged in church and charitable work for many years. She became one of the organizers and the first president of the Lidgerwood Ladies Aid Society, which position she held until its final disorganization. It was a pioneer institution, which was organized some years before the Christian church at Lidgerwood came into existence, and not until the church was completed did the society as such disband, the church taking over its work. Mrs. Nethercutt became a very prominent member of the First Christian church, cooperating heartily in all its various lines of work. She also did much in behalf of the Good Templars, and wherever or whenever she could lend a helping hand, or do a kind act, or speak an encouraging word to those less fortunate, she did it, graciously imparting to them good cheer from the abundance of her own bright and cheery nature. She loved to do good, to help a fellowman, and her work was not the expression of duty done but rather the prompting of a heart that reached out in sisterly kindness to all mankind. Mr. Nethercutt holds membership in Samaritan Lodge, No. 52, I. 0. 0. F., and gives his political support to the republican party but without desire for office as a reward for party fealty. He feels that success at the bar will be best attained if his undivided attention is given to his professional duties. His devotion to his clients' interests is proverbial and as a practitioner in the courts he is making a creditable record and winning recognition and success.
Submitted by: Nancy Pratt Melton
* * * * Notice: These biographies were transcribed for the Washington Biographies Project. Unless otherwise stated, no further information is available on the individuals featured in the biographies.
---