Robert Edmund Strahorn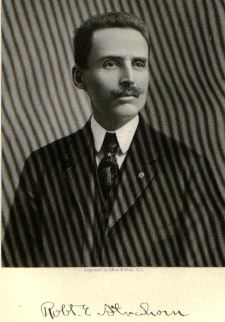 (Click on picture to view larger image)
"Spokane and The Spokane Country - Pictorial and Biographical - Deluxe Supplement." Vol. II. The S.J. Clarke Publishing Company, 1912. (No author listed.) pgs. 10-15.

Starting out in life with less opportunity or equipment than the average American boy, but evidently possessed of an optimism and determination which enabled him to triumph over many adverse situations and discouragements, Robert Edmund Strahorn has followed the lead of his opportunities, doing as best he could anything that came to hand, and creating and seizing legitimate advantages as they have arisen. He has never hesitated to take a forward step when the way was open. Fortunate in possessing a degree of earnestness and frankness that have inspired confidence in others, the simple weight of his character and ability have carried him into important relations with large interests and he is now the president of several important railway and other corporations with headquarters in Spokane. important element in business activity throughout the northwest. The North Coast Railroad project especially owes its inception and prosecution to him and is constituting a most
Mr. Strahorn was born in Center county, Pennsylvania, May 15, 1852. The family is of Scotch-Irish origin and the ancestry in America is traced back to the great-grandfather of our subject, who in colonial days came from Scotland to the new world and afterward aided in obtaining American liberty in the Revolutionary war. He continued a resident of Union county, Pennsylvania, until his death and his son, Samuel Strahorn, grandfather of our subject, also made his home in that county. The father, Thomas F. Strahorn, there born and reared, learned the trade of a millwright and machinist and in 1856 removed from Center county, Pennsylvania, to Freeport, Illinois, and nine years later became a resident of Sedalia, Missouri. In 1878 he crossed the Rockies, following in the footsteps of his son who had preceded him in 1870, and after residing for a time in Idaho and Montana, he became resident of Los Angeles, California, where he passed away in 1883. His wife, who bore the maiden name of Rebecca Emmert, was born in Center county, Pennsylvania, and was of Dutch lineage, a daughter of John Emmert, who had come to this country from Switzerland. The death of Mrs Strahorn occurred in 1861.
Robert E. Strahorn spent the first four years of his life in the state of his nativity and was then taken by his parents to northern Illinois, where the period of his youth was passed in village and farm life where his work was of the hardest. His educational privileges were very limited, as he attended school only until ten years of age. Private reading and study, however, constantly broadened his knowledge and the studious habits of his youth have made him a man of wide general information. In the school of experience, too, he learned many valuable lessons which have proven of significant worth in his advancement in the business world. In his boyhood days, after his life on the farm, he first sold papers on the streets, and then began learning the printer's trade Sedalia, Missouri, following that occupation for five years. Subsequent to his removal to Denver, Colorado, in 1870, he was engaged in newspaper work as reporter, editor and correspondent until 1877. During the Sioux war of 1875-6 in Wyoming and Montana, he was with General Crook as special correspondent of the New York Times, Chicago Tribune and Denver News, personally participating in the fighting in all of the engagements with the Indians, the secretary of war commending him for his gallantry and helpfulness to the government. Moreover, he wrote most interesting accounts of that frontier warfare, which was needed in quelling the Indians in their hostile resentment of the incoming civilization.
While pursuing the journalistic profession Mr. Strahorn became interested in and to some extent identified with the railway business, accompanying as correspondent several surveying parties and also performing publicity work for the Denver & Rio Grande, the Colorado Central and the Union Pacific Railroad Companies. This opened up to him the opportunity of entering into active connection with railway interests and he organized and conducted the publicity bureaus of the Union Pacific and Kansas Pacific Companies, during which period, from 1877 until 1884, he resided much of the time in Omaha and in Denver. He was also engaged in a confidential capacity in work relating to the extension of lines for the Union Pacific, this carrying him by stage, horseback and on foot into almost every county of every state and territory west of the Missouri river and brought to him his wide knowledge of the conditions and the opportunities of the west. His next step in the business world brought him into intimate connection with town-site, irrigation and power enterprises in Idaho, Oregon and Washington and when six years had passed in that way he returned to the east, settling in Boston, Massachusetts, in 1890. Through the succeeding eight years he devoted his attention to the negotiation of municipal bonds but since 1898 has permanently resided in Spokane, where he again became actively interested in development projects, his special lines of operation being in connection with the construction and operation of waterworks, power and electric plants and irrigation. Those interests still claim his attention and energies to a considerable extent and have constituted a significant force in the improvement and upbuilding of the districts in which he has operated. His enterprise and executive ability in recent years have, moreover, brought him into prominence in railway connections as the promoter and builder of the North Coast Railroad. He undertook to prosecute that project in the spring of 1905 with the result that in the fall of that year a company was organized and the engineering and construction work has since proceeded steadily. The system is designed to bring Seattle, Tacoma and Portland on the west into direct connection with Walla Walla and Spokane on the east and includes a new short line between Spokane and Walla Walla and another between Spokane and Lewiston, Idaho, and with its branches, is to have a total length of seven hundred and fifty miles. Throughout practically the whole existence of the company Mr. Strahorn has been its president and active manager. The value of the project is recognized by every business man of this section and its worth as a developing factor of Washington can scarcely be overestimated. In connection with this, Mr. Strahorn has organized the Spokane Union Terminal project which will center five railways in one grand passenger terminal and provide for their concentration along one central zone through the heart of the city, with all surface or grade crossings eliminated. In working this out he overcame obstacles which in the aggregate were almost appalling.
The North Coast Railroad project has sometimes been called the railway romance of our time and our subject, its central figure, the "Sphinx" and "Man of Mystery" because of the very unusual and unique manner of its financing and building, involving many millions of dollars, without the identity of Mr. Strahorn's financial backers becoming known. The war made upon him by rival railway interests and others bent upon unmasking and defeating him has been a sensation of large magnitude in the Pacific northwest, and probably more than any other of Mr. Strahorn's undertakings has emphasized his fine poise, unfaltering pursuit of an undertaking once decided upon and his undying devotion to any trust imposed in him, as well as his modesty in success. Late in the year 1910, when the larger matters desired had been accomplished, this ban of secrecy was removed and it developed that Mr. Strahorn had been the confidential agent of Mr. Harriman from the first and the North Coast Railroad enterprise was consolidated with other Harriman lines in the northwest under the name of the Oregon-Washington Railroad & Navigation Company, and Mr. Strahorn made vice-president of the larger corporation.
In order to appreciate some of the accomplishments of this great railroad builder be it stated that several hundred miles of road surveyed and in part constructed have been paid for, to the extent of several million dollars, by the personal check of Mr. Strahorn. A thousand miles of surveyed lines, a hundred miles completed in the Yakima valley, trains operating on portions of road, are a few of the things that have been accomplished in an incredibly short time and in the face of tremendous odds and opposition. There has been built one bridge two thousand nine hundred feet long spanning the Columbia; another over the Snake will be four thousand and seventy feet long and two hundred and seventy-five feet high, probably the highest over any large river in the United States, and this bridge will have ten million pounds of steel used in its construction. Mr. Strahorn will erect in the city of Spokane alone one bridge one hundred and sixty-five feet high and three thousand feet long; another one hundred and seventy-five feet high and one thousand feet long, and both to be marvelous engineering feats.
More recently these interests have organized the West Coast Railway designed to do important construction across the Cascade mountains, with Mr. Strahorn as president, and also the Yakima Valley Transportation Company, which is building important electric railway lines under his direction. Among his many important personal enterprises are the Northwest Light & Water Company, owning waterpower, electric lighting and waterworks plants in various cities of Oregon, Washington and Idaho; the Yakima Valley Power Company, which has built electric transmission lines one hundred and ten miles in length, connecting up and furnishing electric power to all the cities of the Yakima valley and Pasco; and the Pasco Reclamation Company, which is irrigating and otherwise developing large areas of orchard lands surrounding the city of Pasco. Besides financing and being president and manager of these and other companies, Mr. Strahorn has found time to engage in many other activities in connection with commercial organizations throughout the northwest.
On the 19th of September, 1877, Mr. Strahorn was married to Miss Carrie Adell Green, a daughter of Dr. J.W. Green, of Marengo, Illinois, whose social graces and literary attainments (the latter best evidenced by her authorship of the popular volume "Fifteen thousand miles by stage") are eloquent testimonials to credit her husband so freely accords her for a large measure of his success (See also her biography and photo).
Mr. Strahorn is a valued member of several social organizations, including the Spokane Club, Spokane Athletic Club, the Inland Club and the Spokane Country Club, and for several years he has been a trustee of the Spokane Chamber of Commerce, cooperation in all of its practical plans for the development of the city. His genial nature, ever-ready helpfulness and philanthropy have given him a large place in the hearts of his fellow citizens. Mr. Strahorn is a man of well balanced capacities and powers, without any of that genius which is liable to produce erratic movements resulting in unwarranted risk and failure. He is eminently a man of business sense, of well balanced mind, even temper and conservative habits, and possesses that kind of enterprise that leads to great accomplishments and benefits other more than himself.
Submitted by: Nancy Pratt Melton
* * * * Notice: These biographies were transcribed for the Washington Biographies Project. Unless otherwise stated, no further information is available on the individuals featured in the biographies.
---