Roderick Mackenzie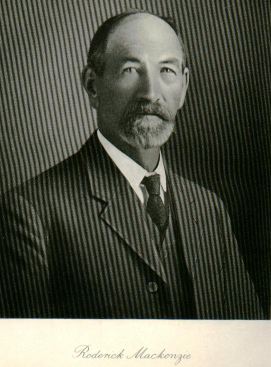 (Click on picture to view larger image)
"Spokane and The Spokane Country - Pictorial and Biographical - Deluxe Supplement." Vol. II. The S.J. Clarke Publishing Company, 1912. (No author listed.) pgs. 262-264.

THE Inland Empire claimed no more loyal citizen or one more deeply interested in its welfare and progress than Roderick Mackenzie, whose death occurred January 19, 1912, at San Diego, California, where he usually spent the winter months, for the cold of the more northern district proved unfavorable to him in the evening of his life. He had the deepest attachment for Spokane and this section of Washington and his public spirit was manifest in many tangible and effective ways. He was one of the builders of the Inland Empire and was closely identified with the development of the surrounding country, especially Liberty Lake. He was born in Nova Scotia in 1838 and was there reared and educated. He was twenty years of age when he removed to Boston, Massachusetts, where he worked as a carpenter for the ensuing six years. He then removed to Omaha, Nebraska, where he took a contract for a portion of the construction of the Union Pacific Railroad, which was then being built. With the first money he made he purchased property in what is now the center of the business district of that thriving city, but he eventually disposed of his real estate and became extensively interested in cattle raising, also giving considerable attention to other stock. He was very successful in that work in the middle west but eventually disposed of his holdings in that section of the country, in order to remove to the Spokane country, where he arrived in June, 1890. Soon afterward he purchased eight hundred and six acres surrounding Liberty Lake and there engaged in diversified farming. He also built a hotel and kept a fleet of boats on the lake, which became famous as a resort. This is now one of the most popular resorts in the Spokane country. Upon his farm he placed full-blooded stock, including Jersey cattle, and he did much to advance the standard of cattle and stock in general raised in this section. His improved methods of farming constituted an example that many of his neighbors followed to their lasting benefit. In fact, he was always on the side of progress and improvement and his labors and substantial support proved elements for advancement in many ways. He aided the telephone company in securing the right of way and in establishing its line, was a strong advocate of good roads and he added much to the beauty of the country by planting many thousands of trees. He was also a stalwart champion of the cause of education. On retiring from active business, he sold his hotel and land to the Palouse Land Company. He gave the Inland Electric Company a right of way and a tract for terminals on his property. He retained one hundred and sixty acres of his holdings for his own use and thereon he made his home up to the time of his death. At the time of his demise he was vice president of the South-ern Building Company of San Diego, California, where he spent the winter months. He also had holdings in Spokane, owning much city property together with real estate in Colfax, including the Mackenzie building, a modern and well appointed apartment house. He was likewise the owner of the Postoffice building and other properties in Colfax and had from time to time made judicious investments in real estate which brought to him good financial returns.
Mr. Mackenzie was married in Nova Scotia in 1869 to Miss Anabel McLean, and unto them five children were born: Charles L., who is now a banker of Colfax; William, residing in Liberty Lake; John, who is one of the managers of the Savoy Theater of San Francisco; Mrs. Bert Terry, of East 1417 Seventh avenue, Spokane; and Mrs. Carrie McKinnon.
Mr. Mackenzie never aspired to or held public office. His was a splendid example of a well spent life, characterized by fidelity to high ideals. He took an active and intelligent interest in all matters of citizenship and in the conduct and administration of public affairs and gave his political allegiance to the republican party. Fraternally he was connected with the Masons and his religious faith was that of the Presbyterian church. He was a man of marked business ability and strong magnetic personality who attracted friends and held them. Those who needed aid found him very charitable and benevolent but his assistance was always given most unostentatiously. Those who met him in a business way entertained for him high respect; and those who came within the close circle of his friends had for him warm love, for his sterling qualities were many and gained for him affectionate regard from those who knew him.
Submitted by: Nancy Pratt Melton
* * * * Notice: These biographies were transcribed for the Washington Biographies Project. Unless otherwise stated, no further information is available on the individuals featured in the biographies.
---