Volney D. Williamson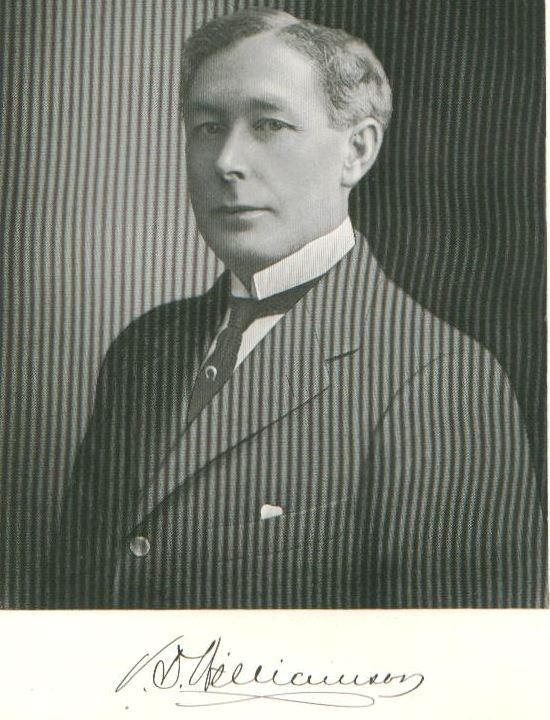 (Click on picture to view larger image)
"Spokane and The Spokane Country - Pictorial and Biographical - Deluxe Supplement." Vol. II. The S.J. Clarke Publishing Company, 1912. (No author listed.) pgs. 34-37.

What a story of thrilling interest would the life history of Volney D. Williamson be if written sections of the country and has been among the first on the ground in many of the famous American mining camps. Moreover, he has contributed largely to the development of the mineral resources of the country, has been interested in Alaskan expeditions, in railroad building and real-estate operations. He was born in Oakland, Oregon, July 27, 1865, and is a son of Sol Williamson, for whom Williamson river of Oregon was named. His father was a native of Ohio and of English descent. He made the long journey across the plains in 1847, taking up a tract of land where the city of Portland now stands. He traded this claim for a yoke of oxen and in 1848 went to California. The following year, however, he returned to Oakland, Oregon, where he settled on a large tract of land. He was known throughout the district as the father of that part of the country, was consulted by the old pioneers concerning their property and investments and by his wise counsel and substantial aid assisted many of the new settlers who came to establish homes on the frontier. At the time it was necessary to haul all goods by team from Portland, Oregon. Mr. Williamson was well-to-do and when his old friends crossed the plains he was always ready with money and teams to assist them. His neighbors were Indians, and an old Indian scout known as Billy slept on his hearth for several years. He frequently notified Williamson of the approach of Indians who were on a raid and he could then retreat about a mile from his house, there remaining in hiding during the time the Indians were in the neighborhood. He was a lover of fine stock and by a tragic coincidence his death was caused by a kick in the breast by one of his favorite horses, in 1868, when he was forty-four years of age. He had contributed largely to the upbuilding, settlement and improvement of Oregon and his name is honored as one of its pioneer residents. His wife, who bore the maiden name of Adeline Reed, was a native of Indiana, her family tracing their ancestry back to the time when as members of the William Penn colony they settled in Pennsylvania. Mrs. Williamson died in 1878. In the family were three sons and three daughters, the brothers of Volney D. Williamson being W.H., a resident of Idaho, and F.A. of Spokane. His sisters were: Sarah J., who is the widow of S.J. Nelson of this city; and Mary and Estella, who are both deceased.
Volney D. Williamson pursued his education in the public schools and a business college of Portland, Oregon, and on leaving that state in 1878 came to Walla Walla, driving a team across the country. In 1879 he passed through Spokane and the Palouse country and returned to Sprague, where he was engaged in general merchandising until 1883. In the spring of that year he grubstaked a claim in connection with a Mr. Holmes and his brother, F.A. Williamson, and they were the first in the Coeur d' Alenes, except a man of the name of Pritchard, who staked the "Widow" claim, while they had the adjoining property, called the "Last Chance." In the fall of 1883 Mr. Williamson made a trip to the Coeur d' Alenes by way of Herron's Siding and came out the same fall, although he returned the following year. From Murray, Idaho, he went to Canyon Creek, where he assisted in laying out the town of Burke. He was afterward in Wallace and operated in the Kootenai Lake and Slocan country and was interested in the purchase and sale of the War Eagle, for which seven hundred thousand dollars was paid, the Center Star, which brought two million dollars, and the Crown Point, which sold for two hundred and fifty thousand dollars. He was also interested in the Spokane and several other large mining properties, all of which are now being successfully worked. He next operated in Republic and was interested in the purchase and sale of the Republic mines, and San Poil, Black Tail and several others, all of which are now being worked and are turning out rich ore.
During all this time Mr. Williamson made his headquarters in Spokane. He traveled, however, for five years and made a trip around the world. During the '90s he made his headquarters in New York for eight years. He turned his attention to the mineral resources of Mexico, where he operated in connection with Victor M. Clement, and he was also interested to a small extent in South African properties while Mr. Clement was in that district. He became interested to a small degree in Coolgardie, Australia. He also owned the Treasure Box in Coeur d' Alene, from which in hand mortars and arrastres they took out from two hundred to four thousand dollars per day, securing seventy-seven thousand dollars in two months. Mr. Williamson was also, while working the Santa Rosa mine in Mexico, the discoverer of the first turquoise mine of that country.
In 1908 Mr. Williamson returned to Spokane. He was connected during the early stages of its building with the Oregon Trunk Railway but eventually sold out to J.J. Hill. He has been a property owner in Spokane since 1886 and has always called this city his home. He owns mining interests in Mexico with the English Exploration Company of London and still retains small interests in the Coeur d' Alenes. He was interested in an expedition into Alaska during the early period of the excitement there and was connected with the early operations of the Crow's Nest Coal Company in British Columbia, of which he is still a stockholder. He has large investments in land in Oregon and is interested in several towns of that state, including Madras, Redmond, Metolius and Lakeview. He is now president of the Inland Empire Company; president of the Williamson Investment Company, a corporation; president of the State Bank of Metolius, Oregon; president of the Santa Rosa de Mazipil Mining Company, the Santa Rosa Development Company and was vice president of the International Metals Company of Mexico but recently resigned.
Mr. Williamson was united in marriage to Miss Mabel C. Cotter, of Denver, Colorado, in 1905, a daughter of J. Lambert Cotter. Mr. Williamson holds membership in the Episcopal church and is connected with several fraternities and leading clubs. He is a life member of the Benevolent Protective Order of Elks and of the Independent Order of Odd Fellows. He belongs to the Spokane Club, the Spokane Country Club, the Engineers Club of New York and was one of the committee which secured half a million dollars from Andrew Carnegie for the purpose of building the Engineers Club. He is likewise a member of the Arlington Club of Portland and of the Coeur d' Alene Boat Club.
Few men could speak so largely from practical experience of the west and its history, especially in connection with its mining interests. Mr. Williamson has made an excellent record in his business career, accomplishing what he has undertaken, his sound judgment precluding the possibility of many false moves. He is today one of Spokane's wealthiest citizens and is honored and respected by all who are familiar with his life work.
Submitted by: Nancy Pratt Melton
* * * * Notice: These biographies were transcribed for the Washington Biographies Project. Unless otherwise stated, no further information is available on the individuals featured in the biographies.
---