Vernon F. Pavey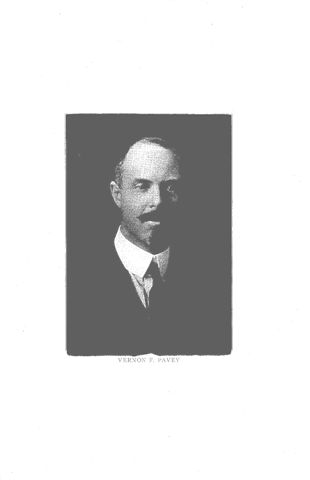 "Seattle and Environs, 1852-1924." Vol. 3. Hon. C. H. Hanford, Editor. Pioneer Historical Pub. Co., 1924. p. 556.
VERNON F. PAVEY
Vernon F. Pavey is a man of marked business ability and may be justly numbered among those who are pushing forward the wheels of progress in Seattle. He owns a valuable business corner at Pike place and Stewart street, and some choice residential properties in Seattle. He is the owner and proprietor of the beautiful Hotel Sorrento, which is most advantageously situated, affording its guests an unobstructed view of Puget Sound and the Olympic mountains, and is considered one of the finest hostelries in the city. His name is also a prominent one in local industrial circles and he is likewise a successful agriculturist, his efforts being resultant factors in everything that he undertakes.
Vernon F. Pavey was born in Leesburg, Ohio, December 27, 1882, and is a son of Elmer F. and Lillian (Gray) Pavey, also natives of that state, where the father always resided, devoting his attention to the occupation of farming. In November, 1906, the mother came to Seattle with a son and a daughter and is still a resident of the city. Vernon F. Pavey obtained his early training in the district school near his home and completed his high school course at Leesburg, Ohio. In 1900 he entered the Ohio State University, from which he received the Bachelor of Science degree in 1904, and two years later he was graduated from that institution with the degree of Bachelor of Laws. During his university courses he was prominent in athletics and received four years of military training, attaining the rank of captain in the Cadet Battalion. He then followed farming for a time and in 1909 came to the Pacific coast, reaching Seattle in April of that year. He opened a real estate and insurance office, building up a good business along those lines, and was thus occupied for six years. In 1915 he took over the Sorrento, which he has since conducted, making it one of the best managed and most popular hotels in the city. It has many permanent residents and is always the headquarters for the ships' officers during the naval maneuvers on the Sound. It is a delight to the traveler who visits Seattle, affording everything that is most desirable in hotel accommodations and service. Mr. Pavey studies closely the wishes of his patrons and has thoroughly grasped the art of hotel management, operating his establishment without noise or friction and employing the most modern and progressive methods of inn-keeping. He has been equally successful in the manufacturing field and is president of the Seattle Veneer & Box Company, in which connection he is at the head of a large and growing business. He has likewise demonstrated his ability as a stock raiser and orchardist and is the owner of productive farms at Richland and Kennewick, Washington, on which he grows fine strawberries; apples and other choice varieties of fruits and vegetables for the delectation of the patrons of the Sorrento, whose cuisine is unexcelled.
Mr. Pavey was married in Seattle, on December 27, 1917, to Mrs. Sarah Randolph Tricou, a daughter of Captain S. Reed Colhoun, pay director of the United States navy. Mrs. Pavey is prominent: in social circles of the city, belonging to the Sunset Club and to other organizations of a similar character, and has also done valuable work in behalf of the Orthopedic Hospital, one of the philanthropic institutions of Seattle. Mr. Pavey is one of the enterprising members of the Chamber of Commerce and fraternally is identified with the Benevolent Protective Order of Elks, while his political views are in accord with the platform and principles of the republican party. Knowing when and where to use his powers and Just what opportunities to embrace, he has focused his energies in directions where fruition is certain. He numbers his friends by the thousands and typifies ail that is most desirable in citizenship, for his labors have been a vital force in the growth, progress and improvement of his community.
---
Submitted to the WA. Bios Project in February 2011 by Diana Smith. Unless otherwise stated, no further information is available on the individual featured in the biographies.