WILLIAM A. L. MCCORKLE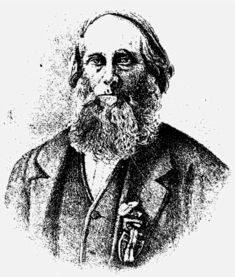 (Click on image to view larger photo)
---
SOURCE: Alley, B. F. and Munro-Fraser, J. P. History of Clarke County, Washington Territory : compiled from the most authentic sources ; also biographical sketches of its pioneers and prominent citizens. Portland, Or. : Washington Publishing Co., 1885.
---
WILLIAM A. L. MCCORKLE - The subject of this sketch, whose portrait appears in this work, was born in Rockbridge county, Viriginia, June 20, 1824, but having the misfortune to lose his parents when quite young, at seven years old he was taken to Sinking Spring, Ohio, and here he learned the trade of tanner with Mr. Easton. At sixteen he removed to Cincinnati, Ohio, where he worked at his trade for a year, and after taking a trip down the Mississippi and through the western country, he went to Giandot, Virginia, and superintended the tannery of Mr. Haight for a year; thence removing to Louisa, Kentucky, to the establishment of Mr. Moore for a like period. Having removed to Warm Springs, Virginia, our subject there enlisted in Company A, United States Voltigeurs and, in 1847, proceeded via New Orleans to Vera Cruz, afterwards taking part in the battles at Contreras, Churubusco and El Moleno del Rey in the last of which he was wounded. The manner of which is as follows: Mr. McCorkle, with a few others, were detailed as advance scouts to ascertain the particular locality of the enemy's lancers. Starting before it was dawn, they came suddenly upon one of the Mexican outposts who made a dash at our subject, running his lance into his leg, above the ankle. Mr. McCorkle clung to the lance with both hands thus preventing it from going deep enough to hold, and thus he was dragged off the field. During the contest one of his comrades came up, shot the Mexican and relieved his brother-in-arms. This accident did not prevent out subject from taking part in the action, however, for we find that while supporting a battery he received a gun-shot wound in the same lim, a little above the former hurt. But disabled as he now was he still made himself useful among his wounded comrades, showing a good and cheerful example to those near. At dusk he was removed from the field to hospital and after sufficiently recovered was sent to New Orleans by way of Vera Cruz. On obtaining his discharge he obtained the following certificate: "This is to certify that William L. McCorkle served with credit as a corporal in Company A, U.S. Voltigeurs, during the campaign of 1847, in the valley of Mexico. He was present at the battles of Contreras and Churubusco on the 19th and 20th of August. He received a severe wound while in the performance of his duty at the battle of El Moleno del Rey on the 8th of September, 1847, in which action I commanded the company to which he belonged. Having enlisted him myself and had the opportunity of observing his conduct throughout his whole period of service I have no hesitation in saying that I never knew a better soldier. (Signed) Birkett D. Fry, 1st Lieut. U.S. Voltigeurs." On his return to the United States, Mr. McCorkle visited a sister in Illinois, and then proceeded to Warm Springs, Virginia, where he fitted out to cross the plains. Starting from Independence, Missouri, in the spring of 1849, he arrived at Sacramento, California, in the fall of the year. He now went to the mines at Mormon Island, where he remained a year. In 1850 he came from San Francisco to Oregon. In October, 1850, he arrived at the residence of Mr. Burpee, near Monticello, and located his claim and for the first year or so, made his home in a hollow maple tree that stood on the river's bank. On this land he finally erected a cabin, and has lived on it ever since. Mr. McCorkle was commissioned Captain of Company G, by Governor C. H. Mason, during the Indian troubles of 1855-56, and proceeded to the Chelachie valley and prevented the savages from crossing through the pass into the lower country. He married in Rockbridge county, Virginia, Diana Saville, and has two children, viz: John W. and Eugene.
Submitted by: Jenny Tenlen
* * * *
Notice: These biographies were transcribed for the Washington Biographies Project. Unless otherwise stated, no further information is available on the individual featured in the biographies.
---
[Monticello Convention Commemoration] [WABios Project]