William D. Scott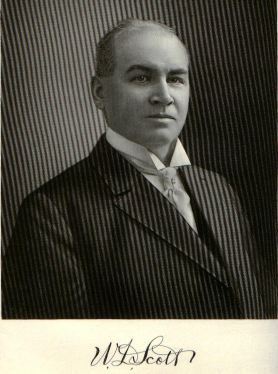 (Click on picture to view larger image)
"Spokane and The Spokane Country - Pictorial and Biographical - Deluxe Supplement." Vol. II. The S.J. Clarke Publishing Company, 1912. (No author listed.) pgs. 152-154.

WILLIAM D. SCOTT, a member of the law firm of Scott & Campbell, specializing somewhat in mining and corporation law although still continuing in general practice, was born in Elizabeth, Allegheny county, Pennsylvania, October 8, 1861. His father, John V. Scott, was a native of the same county and represented a family of Scotch-Irish and Dutch descent although founded in America prior to the Revolutionary war, in which representatives of the name participated. He was drafted for service in the Civil war but had just passed forty-five, which is the age limit, and was, therefore, not compelled to go to the front. One of his younger brothers, however, was with the Union army in active duty in the south. John V. Scott devoted his life to general agricultural pursuits and was a prominent and influential citizen in his home locality. He wedded Nancy Ann Nichols, also a native of Pennsylvania and of English and German descent. The death of the father occurred in 1894 and the mother lives on the old homestead about two miles from Elizabeth. Their family numbered four sons and three daughters: William D.; James H., a practicing attorney of Burlington, Iowa; Joel F., a physician of Wilson, Pennsylvania; John K., who is living on the old homestead with his mother; Lizzie R., the wife of James Van Kirk, a civil engineer of West Newton, Pennsylvania; Jennie A., the wife of Homer Brinton, a banker of Ellsworth, Iowa; and Nannie L., the wife of James Biddison, a farmer of Palmdale, California.
William D. Scott supplemented his preliminary school training by study in the Washington and Jefferson College of Pennsylvania and afterward attended the University of Michigan, being graduated from its law department in 1888 with the LL.B. degree. He had followed farming until he went to college and for one winter had engaged in teaching school. After the completion of his course in the Michigan University he was admitted to the bar of that state and then came to Spokane for the practice of law, arriving in the city on the 28th of August, 1888. For one year he remained alone in practice and then joined the firm of Conner, Henly & Scott. This connection was maintained for a year and during the succeeding two years he was a partner of Mr. Henly. He afterward practiced alone for four years and on the expiration of that period was joined in a partnership relation by Mr. Rosslow under the firm style of Scott & Rosslow. They were together for seven or eight years and then again Mr. Scott was alone for a time, after which he entered into his present partnership as senior member of the firm of Scott & Campbell. They conduct a general law practice of considerable extent and importance and are specializing to some degree in mining and corporation law, representing the Methow Gold Mining Company together with other well known corporations, including the United Copper Mining Company. Mr. Scott is also a trustee of the Midway Summit Mining & Milling Company of Burke, Idaho, which has recently been reincorporated, its property promising big returns in silver and lead. It is now being developed and has already made a most satisfactory showing.
The pleasant home life of Mr. Scott had its inception in his marriage on the 26th of December, 1901, in Spokane, to Mrs. Nette E. Lewis, a daughter of Ferdinand .J. A. and Anna W. (Abel) Martin, pioneer residents of Fond du Lac, Wisconsin. Mr. and Mrs. Scott have many friends in this city and the hospitality of a large number of Spokane's attractive homes is extended to them. In his political views Mr. Scott is a republican interested in the success and growth of the party which he has represented as a delegate in several state conventions and was also named as alternate to one of the national conventions. He is well fitted for leadership and his work has been an effective force for progress in party ranks. Moreover, his district, appreciative of his worth, elected him representative to the legislature in 1905 and again to the state senate in 1907, and while numbered among Washington's lawmakers he gave most careful consideration to each question which came up for settlement, voting with due regard for the best interests of the commonwealth at large. He is also deeply interested in the welfare and upbuilding of Spokane, which has prompted his cooperation in the work of the Chamber of Commerce, in which he holds membership. He is a Royal Arch Mason, a member of the Woodmen of the World and the Independent Order of Odd Fellows, having filled all of the offices in the local lodge of the latter. He is likewise a life member of the Spokane Athletic Club and is qualified to become a member of the Sons of the American Revolution. Mr. Scott is widely known in this city, where he has made his home for almost a quarter of a century, taking active and helpful interest in everything pertaining to its substantial upbuilding and improvement.
Submitted by: Nancy Pratt Melton
* * * * Notice: These biographies were transcribed for the Washington Biographies Project. Unless otherwise stated, no further information is available on the individuals featured in the biographies.
---