William J. Nickerson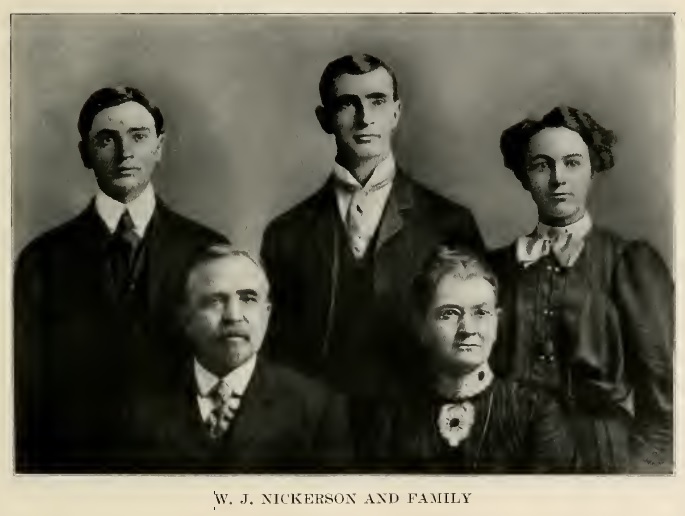 Durham, N. N. "Spokane and the Inland Empire; History of the City of Spokane and Spokane County Washington." Vol. 2. S. J. Clarke Publishing Co., 1912.
WILLIAM J. NICKERSON
William J. Nickerson, while conducting a general real-estate business, largely handles his own properties. While he is now developing and conducting an extensive business in the purchasing and sale of realty he has also been most active as a factor in promoting the progress and advancing the civilization which has taken Spokane and this section of the state out of the pioneer class, placing the city with all of its advantages, opportunities and improvements on a par with the cities of the older east. His birth occurred near Coburg, Ontario, Canada, August 8, 1843. His father, Ephraim Andrew Nickerson, also a native of that country, was descended in the maternal line from a family represented in the Revolutionary war. His mother's ancestors were from Amsterdam, Holland, and in the early colonial epoch settled on the Hudson river where the Van Rensselaers also located. She was taken prisoner by the Indians and held in captivity for a long time but was afterward released. Her father, however, was kept as a prisoner by the Indians for seven years and her adopted brother, when captured, was killed and unjointed from his toes to his hips, the pieces of his body being thrown down before his foster father. Ephraim Andrew Nickerson, born and reared in Canada, resided for a number of years in Iowa, where he filled the office of justice of the peace and school director and held other positions of public trust. It was in 1855 that he became a resident of Manchester, Delaware county, Iowa, where he engaged in farming and in following that pursuit he provided a comfortable living for his family. He died in 1892 but is still survived by his wife, who is living in Spokane at the advanced age of ninety-one years. She bore the maiden name of Elizabeth Ash and was born in Canada, where she was married though she was reared in the United States. William J. Nickerson was a young lad when the family left Canada, going first to Illinois and thence to the vicinity of Manchester, Iowa, where the father purchased land, the family there residing until 1863. On the 1st of June, 1864, they went to Oakland, California, making the long trip across the plains, and William J. Nickerson attended school in Alameda and afterward became a college student at San Jose and Santa Clara, being graduated in the latter city in 1865. In that year he went to San Francisco, where he engaged in the shipping and forwarding business, first being employed as porter for the firm of Moss, Beadle, Goodall & Perkins. From that position he was advanced through intermediate positions to that of chief bookkeeper and had general charge of the business in the office until 1874. For a short time he engaged in the commission business on his own account in partnership with a man named Danzell. In 1883 he made his way to Washington and afterward to Plaza, Washington, and during the succeeding eighteen years was closely connected with mercantile interests of that place. He also served as postmaster there for sixteen years, from 1892 until 1908. Seeking a still broader field of labor he removed from Plaza to Spokane where he has since engaged in real-estate and mining interests. Like most of the men who have lived in the northwest he had at different times been closely associated with mining and the life of the camps in all of its different phases was familiar to him. He went to Idaho in 1883, going over the "Jackass" trail and digging a way through the snow, being thirteen days on that trail. He purchased what was then known as the Charles Dickens mine but is now called the Idaho Knickerbocker mine, a very fine property which is now shipping its product. He also purchased placer mining ground on Trail creek and was very successful in working it. In the fall of 1884 he was there joined by his wife. Conditions seemed very crude at times and yet there was a hospitality which made life enjoyable. At the first dance held there the men dressed in miner's clothes with long-topped boots, but everybody greatly enjoyed the ball. There was no school in the district and to meet this need Mr. Nickerson and others organized a school, getting up entertainments in order to meet the expenses. They produced such plays as "Uncle Tom's Cabin," and it is said that "dollars fairly rained upon the stage" until they had money enough to build a schoolhouse and pay the teacher. The town was then called Beaver but the name has since been changed to Delta. While at Plaza Mr. Nickerson filled the office of justice of the peace.
With advancing years and the changes in conditions Mr. Nickerson wished to become a factor in the city life with its broader business opportunities and removed to Spokane, where he has since conducted a general real-estate business although much of the property which he handles he purchased outright. He is still interested in the Idaho Knickerbocker and the Royal Copper Mining Companies, of which he is secretary-treasurer. He is also interested in the Valley Mining Company and other mining property near Valley, Washington, and he likewise owns property near Princeton, British Columbia, comprising twenty-four claims. In 1872, in Solano county, California, Mr. Nickerson was united in marriage to Miss Alice E. Patterson, a daughter of Robert Patterson, of Solano county, formerly of Pennsylvania, and a representative of one of the old American families. They have become parents of three children: William Harley; Claude Robert; and Pearl E., who is the wife of John Moore, of Mount Vernon, Washington.
While residing in California Mr. Nickerson served in the state militia for five years as a member of Company A, of the First Regiment of the California National Guards of San Francisco. He was also made a Mason in San Francisco lodge. In politics he is a republican and has been a delegate to various county and state conventions of his party. At different times he has held local offices and was very active as a political leader in Idaho during the early days. He is now identified with the Chamber of Commerce and has ever kept in touch with the trend of modern progress, becoming a cooperant factor in the projects and movements which have brought about the present day civilization and prosperity.
---
Submitted to the Washington Biographies Project in June 2017 by Diane Wright. Submitter has no additional information about the person(s) or family mentioned above.
---