HENRY MILES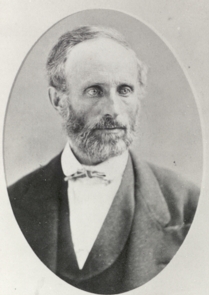 Photo courtesy of Patricia Miller
(Click on image to view larger photo)
---
Born: 1820, Barham, England
Died: 1890, buried at Claquato, Washington
Henry Miles left England for New York in 1850 and within two years had crossed the continent. He married, but upon his wife's death, he left his children in the care of relatives and went west.
He crossed the mountains in 1852 with Isaac I. Stevens, who later became governor of Washington Territory. He settled at Cowlitz Prairie and soon took part in pioneer affairs. Many documents reference his name as Justice of the Peace. In 1853, he served as the first superintendent of schools for Lewis County, receiving $6.25 for three months work. In 1854, he resigned the position when elected to the First Territorial Legislature.
He volunteered during the "The Indian Wars". While he resided at Cowlitz Landing, local Indians were asked to take their firearms to the nearby fort for safekeeping. Pioneer stories relate that Henry Miles and F.A. Clarke, who kept a hotel at the Landing, removed the guns under cover of darkness and conveyed them down river in a canoe. The guns were found years later. Henry was also given the rank of Captain of the Lewis County Rangers during the Civil War.
In 1867, Henry married Caroline P. Drew, widow of Captain George Drew who had a saw and grist mill south of Henry's claim. They moved to present day Chehalis and acquired a considerable amount of property in the new town. He took up storekeeping and in 1878 persuaded his brother John to come from England and join him. But their business venture failed perhaps due partly to Henry's preoccupation with social interests. Family stories indicate that Henry's customers often found him socializing about the neighborhood, "smoking cigars and playing games were among his fondest desiresÉ he was well known and popular."
His last election to the legislature was in 1882.
The author, Junel Davidsen submitted from information provided by Patricia Miller, a great granddaughter of John Miles, who was a younger brother of Henry Miles. Patricia's father was Charles Miles, author and editor of books on Washington history including "Building a State: Washington 1889-1939". Patricia Miller resides in Aptos, CA.
Compiled and contributed by Junel Davidsen on 9 May 2003.
---
[Monticello Convention Commemoration] [WABios Project]