The following was written and contributed by June Carroll. Please contact June for more information.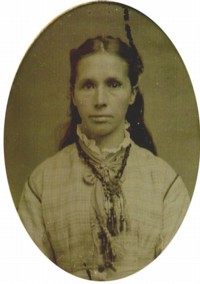 (Click on picture to view enlargement)
My great grandmother, Christina (Stock) Carroll, came to Washington Territory in 1853 from Illinois with her parents, John Frederick and Charlotte (Flood) Stock and 4 siblings. There were 11 children in the Stock family. The last 6 children were born in Washington. They settled on a Donation land claim at Stockport which is now known as Pleasant Hill, Washington. Christina met and married James Madison Carroll when she was one month shy of 14 years old. Their marriage was the first marriage recorded in Cowlitz County. The date was November 9, 1854. I have been told that James Carroll was born in Kentucky and came to this part of the country at the age of 19. I have never been able to find any mention of his parents.
It is stated in Christina's obituary that she and James had ten children but I have only been able to identify nine of them. Only seven of the children lived to be adults. Their children were John Frederick, Catherine, Charlotte, James Madison Jr., Martha Ellen, Frank Walter, Hugh M., William and George Mark.
Christina and James acquired a Homestead claim on 160 acres of land at Ostrander in May of 1869. I believe before that they lived in Rainer for a time where John Frederick was born. Having looked at records I have come to the conclusion that they lived some where between Kelso and Ostrander where at least five of their children were born. By the time Hugh was born, in 1870, they were living on their homestead claim. James states in his Homestead papers, dated 8 May 1874, that he had been on his land from 8th day of May 1869. He had built a frame house 16 X 28 feet, one story and a half high which contained 3 rooms, door frames and windows and had attached a kitchen. He said that his house was, in all respects, comfortable to live in. He also had built a hay shed 20 X 30 feet and other out building. He had 10 acres of land slashed and partially fenced.
My grandmother, Edna (Hoover) Carroll told me of the times her mother-in-law gathered plants from the woods to make medical supplies. She said, Christina, was called on to treat the sick and acted as midwife on many occasions.
My grandfather, George was the youngest of the children and was about seven years old when his father died in 1882. Christina lived on in the home until she married again in December of 1888. After Christina married James Larkins they lived in Clatskanie for a while. They were living there in the 1900 census. I have been told that Christina died of lung cancer but her death certificate only states that the cause of death was paralysis. She died at the St Vincent hospital in Portland, Oregon on September 19, 1908 and although she had married again, she was buried next to James M. Carroll in the Catlin cemetery in West Kelso.