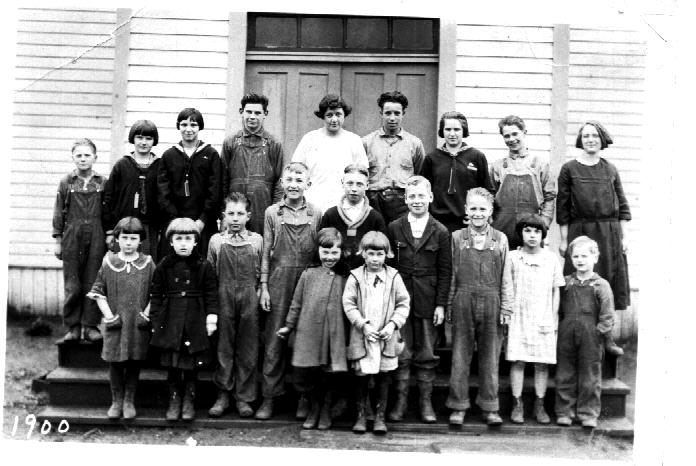 This picture was submitted by Don Drake. Here are his comments on the picture:
"This picture is 1925 or 26. TEACHER AND STUDENTS BY MY MEMORY, NOT 100 PERCENT SURE OF ACCURACY OF ALL NAMES.
TOP ROW:
MILTON HAGAN
JOSEPHINE SALIGER
MARGARET TAUSCHER
ROYAL DOWNS
TEACHER, MISS MACOMBER
WILBUR OPPELT
MINNIE TAUSCHER
GERHARD HAGAN
CORA HAGEN
SECOND ROW:
THELMA BEYERS
ROSELLA TAUSCHER
GERALD LAWRENCE
WENSEL TAUSCHER
ERVIN JACOX
IVAN JACOX
??? HAGAN
CASSIE TAUSCHER
???? HAGAN
GIRLS IN FRONT ROW:
MARJORIE LAWRENCE
WILDA SENN
Don later sent some more comments about being educated in Agate:
"THE TEACHERS IN THE AGATE SCHOOL, THEY HAD QUITE A JOB AS THEY HAD TO TEACH ALL GRADES 1 TO 8. MOST OF THE TIMES THERE WERE ONLY 1 OR 2 STUDENT PER GRADE,WE ALL SAT IN ONE ROOM AND THERE WAS A SMALL BENCH IN FRONT OF HER DESK WHERE EACH CLASS WOULD SIT. SHE USED FLASH CARDS FOR THE BEGINNERS AND FOR THE UPPER CLASS STUDY PERIOD FROM BOOKS AT OUR INDIVIDUAL DESKS AND DISCUSSION FROM THE BENCH IN FRONT OF HER DESK FOR LESSONS. IT IS AMAZING THAT THE KIDS EVER LEARNED ANYTHING AND MAINTAINED THE KNOWLEDGE.
"THE SCHOOL HOUSE WAS TYPICAL OF THE TIME PERIOD, ONE LARGE ROOM FOR GYMNASIUM AND FESTIVALS, CHRISTMAS PARTY ETC.. SQUARE DANCES FOR THE ADULTS AND GENERAL ALL PURPOSE ROOM. OF COURSE THERE WAS NO INDOOR PLUMBING.
"THE SCHOOL WAS TORN DOWN IN THE EARLY 40S, DONT KNOW WHAT IS ON THE PROPERTY AT THIS TIME.
"THE SAD PART IT THERE WAS AN OLD COVERED BRIDGE ACROSS THE NEWUAKUM RIVER CLOSE TO THE SCHOOL. IT WAS A GREAT PLACE FOR US KIDS TO HAVE FUN WHILE WALKING HOME FROM SCHOOL, ABOUT 2MILES. IT WAS DESTROYED ALSO AND REPLACED WITH A STEEL SUPPORTED BRIDGE, PROGRESS IS A SAD THING SOMETIMES."
(Editor's Note: Sadly, Don passed away in 2001.)