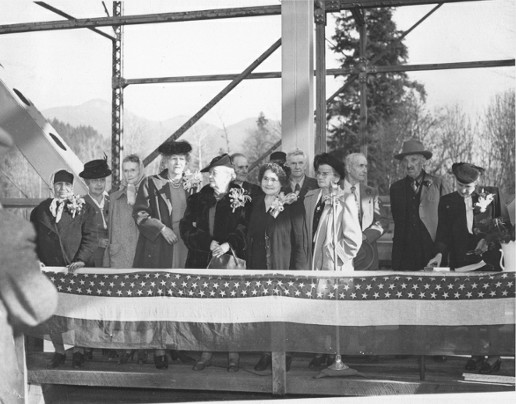 This picture was submitted by Tami (DeRossett) Moorcroft. Here are her comments on the picture:
"It is the bridge that goes across the Cowlitz River in Randle. I don't know all the people in the picture but will tell you who I do know. My Dad could not remember all the names when I quizzed him. This picture came from my husband's family. The people that I know are as follows: Mary Kionia, another Indian Lady, unknown, May (Randle) McMahan, Unknown, Mr. McNee (I think), Mrs McNee, Claude Orr, Clara (Harrelson) Moorcroft, unknown, Joseph Moorcroft and Ola (Jordan) Koher. I am not sure of the year on this one either!"
Update: Jenna Cain contributed the following correction: "The lady to the right of Mary Kiona was not another Indian lady. She was my grandmother, Ada (Proffitt) Blankinship. The event took place in November 1949."
Cynthia Lamping sent the following note: "If I am not mistaken that bridge is in "town". There was a small lumber mill next to it. The mill is now gone. My family has lived in Randle since the late 50's. We all went to Randle Elementary and White Pass High School. Anyway, the names of the people are all familiar to me."