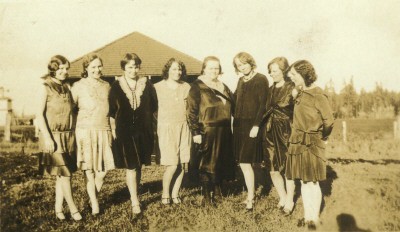 The above photo was submitted by Don Olson. He received this photo from Jeanne Ostnes. The photo was probably taken in the 1920s in Winlock, WA. "Description: From Left to Right:
Agnes, Sophie, Elaine, Ina, Elin, Francis, Olga and Elise. All of the Elin and Edward Isaacson family of Winlock, Washington.
Mom says they were probably getting ready to go to a dance. The younger crowd would go to the Blue Moon north of Winlock while the older folks would go to the Finn Hall.
The older folks would take the babies and younger children with them and the young ones would sleep on the coats, when the dancing went into the wee hours.
Olga Isaacson is the first wife of Walter Toy, son of Walter and Sarah (Snow) Toy. Elin was the Mom of these 7 girls and 5 more boys.
Jeanne Rinear, now Ostnes, is the great-great granddaughter of Joseph Snow, the great granddaughter of Sarah E. Snow/Toy, the granddaughter of Olga Isaacson/Toy, and the daughter of Meridith Toy/Ostnes.
In the FINNS OF WINLOCK, Lewis County Washington, Vol 11, No 1, Pioneer Series, April 1979, there is mention of on page nine of Edward Isaacson having possibly the largest family in Winlock. The Isaacson family is listed in the 1920 census for the Ainslie Precinct. Eight of their eleven children are listed. The other three were probably not born yet."