Arthur Rankin shared this photo of Dryad School, taken in about 1907. His comments follow.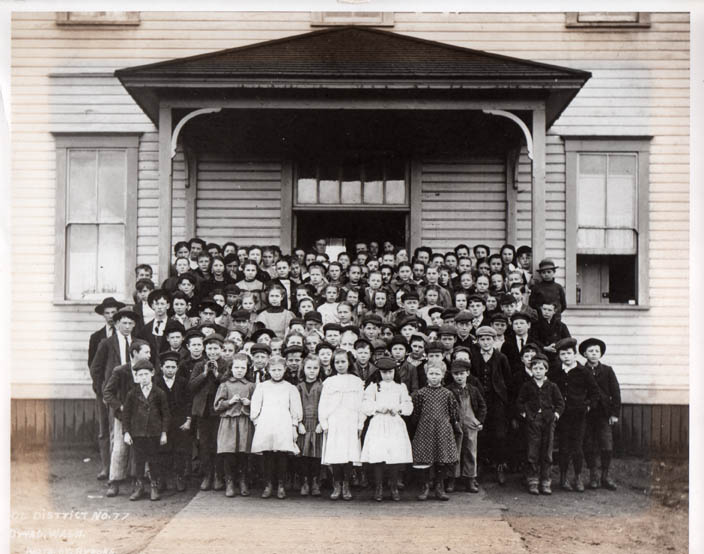 (Click on photo to view enlargement)
"My Grandmother Essie Malolas Hopper is the tall girl in the white dress, front row middle. My grandmother said that her mother let her wear her Sunday dress for the picture shoot as it was a big event. The teacher was kind enough to let her stand in front row. I think the girls in front were the teacher's pet. Anyway this was a very special picture to Essie.
"My grandmother's family came from Georgia to Lewis county by train in 1903. Her father was a carpenter and roofed many of the homes in Dryad including the church and hotel school. Their home was in Dryad on the Chehalis River. Grandmother told me many stories about the town and I still have relatives that live there today. My grandmother told me that the school had four large rooms and each room was for each grade. She told me that the school had a wall clock that chimed and which ever class won the spelling bee they would get to keep the clock in their classroom. The school was also where my grandmother met my grandfather. My grandfather lived in Pe Ell and attended the school in Pe Ell. On a snowy day he and some other boys went down to Dryad to wallup some Dryad boys with a snowball or two. My grandmother was on the playground and she said that Grandad hit her square between the eyes with a snowball. Grandmother was 8 years old and she said that was all it took to marry the man. My grandmother moved to Tacoma in 1917 and with her husband, and they started a family. My grandmother's father was John Daniel Hopper. Her married name was Duskey (Lewandowski)."