Arthur Rankin shared this picture of the Dryad Hotel from 1898.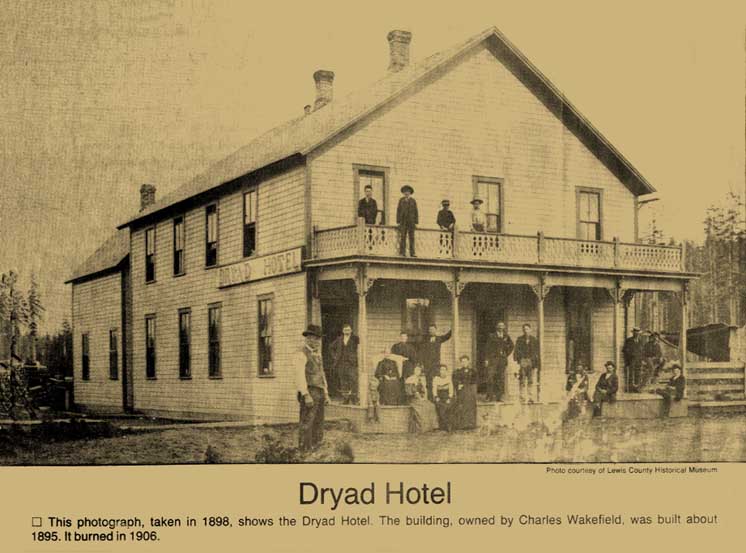 "Here is a newspaper article my great aunt helen had in her collection of Dryad (Essie's sister). Helen is the youngest of the family. The oldest sisters worked in the hotel waiting tables. The hotel had a restaraunt and a lot of Luedinghaus workers would eat there. My grandmother said at 6 years old she would help her sister wait tables and she said she got good tips. I guess her older sisters figured she was getting tipped better than them and had her stay home. Essie said it did not bother her as she got a new job shingling roofs with her dad. Essie said it was years after she moved to Tacoma, her and her husband bought a home on K st. Essie said the home was a little run down but she went to work with the wall paper. Her husband was going to hire someone to shingle the roof but Essie was determined to get the last word in and convince her husband to let her shingle the roof herself. Essie said she took the ladder and climed up on the roof with the square of shingles her husband had placed there for her.
My grandmother Essie said as a woman around 1917 she could not wear overalls as it was not heard of. Essie said all she did was sit down on the roof wipped her dress to one side and shingle roof and then wip her dress to the other side for that row of shingles, Essie said that back then dresses were veary heavy and long so it was impossible to stand up. Essie said she was doing a good job on the roof and it was work in progress.
There was one thing that she had not antisipated. A large crowd was congregating in front of her house. Essie said that every day the crowd got bigger until one day while she was on the roof and her husband standing on the porch a man said in the crowd, shouting out loud 'What's the matter Mr Duskey your wife got to put a roof over your head?' Essie said that her and shingles flew off the roof that day and her husband had someone finish the roof. Essie said, 'I am glad I got as far as I did' and the person that her husband hired wanted to know where she learned to shingle. He said he never had seen such a good job and said he would hire her in a minute. Essie said her shingle days were over and she was told she had to pay more attention to the inside of the house not the outside."