Submitted by: Sharlynn Gates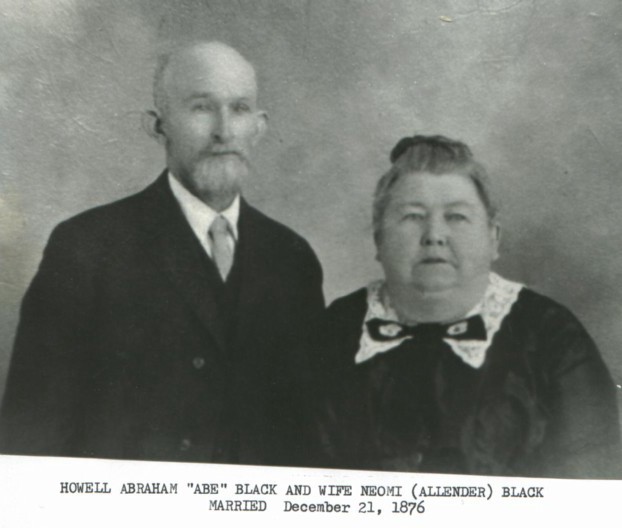 1. HOWELL ABRAHAM4 BLACK (ABRAHAM3, SAMUEL2, PETER1) was born December 19, 1857 in Mt. Pleasant, Henry Co, IA, and died February 21, 1948 in Chehalis, Lewis Co, WA. Howell went by his middle name Abe. Abe was one of seven children born to Abraham Black and Susan Mallory. The Black family was known as farmers. They were very hard working honest people. They were known to be religious. They often talked in old English with terms such as Thee and tho. They did not work on Sundays. They were known for their good sense of humor and kind spirit. They were thought to be from Quaker Lineage. Howells parents moved from Champaign Co, Ohio to Henry Co., Iowa in about 1838. His father Abraham married Susan Mallory on 12 July 1842 in the home of Anthony Umbanhour, Henry County Iowa. Abraham, Susan and their children are listed in Trenton Township, Henry County, Iowa in 1850, 1860, and 1870. As far as we know they had 7 children. Abraham lists only the 7 children on his probate papers also. In the 1880 census Susan is listed as a widow. Susan then married John William Alt on 16 Aug 1888 in Henry County. According to the pension papers of JW Alt Susan died before 1897.
Children of ABRAHAM BLACK and SUSAN MALLORY are:
i. C

AROLINE M.4 BLACK, b. Abt. 1845; m. JERREL.

. ii. M

ARY M. BLACK, b. Abt. 1846, IA; d. Bef. October 28, 1875, Henry Co., IA.

iii. E

LIZABETH C. BLACK, b. February 27, 1849, IA; d. February 26, 1916, Exline, IA.

iv. W

ILLIAM C. BLACK, b. Abt. 1853.

v. J

ANE (ANNIE) BLACK, b. Abt. 1856, IA; m. HOLLAND.

vi. H

OWELL ABRAHAM BLACK, b. December 19, 1857, Mt. Pleasant, Henry Co, IA; d. February 21, 1948, Chehalis, Lewis Co, WA.

vii. M

ARION BLACK, b. Abt. 1867.
Abe (Howell) married N
EOMI ALLENDER December 21, 1876 in Mt Pleasant, Henry Co, IA, daughter of
J
OHN ALLENDER and
M
ARY HUNT. Naomi was born February 24, 1858 in Mt. Pleasant, Henry Co, IA, and died May 24, 1934 in Chehalis, Lewis Co, WA. Her father was born in Maryland to John William Allender and Naomi Guyton. John Allender was a Horse Doctor by trade. He no doubt got many of his horse skills from his father who was a private in the Calvary during the War of 1812. He made his own ointments and salves. John was also known for making his own ointment and salve for the cure of cancer on humans. The ingredients were kept secret, but we know he cooked it on the stove. John also served as clerk for the board of directors for the Ceres school, which was approved in 1891.
John's obituary in The Lewis County Advocate Dec 4, 1914 reads:
Pioneer resident of City and County Dead. John E. Allender passed away at the home of his daughter in Chehalis Wednesday. John E. Allender a resident of this county since 1887, passed away at the home of his daughter, Mrs. Nancy Packingham, on Wednesday, aged 88 years. Mr. Allender was born in Indiana on August 27, 1826. There are three children surviving, all of whom live in Chehalis. They are Ben Allender, Mrs. Nancy Packingham and Mrs. A. Black. Mr. Allender formerly engaged in farming at Boistfort but of late years retired from active business. His wife died 14 years ago. The funeral will be held this afternoon at 2 O'clock from the M. E. church, Rev. Edward J. Smith officiating. The internment will be in the Masonic Cemetery under the direction of L. J. Sticklin.
Naomi's mother Mary Hunt was the daughter of Thomas Hunt and Sarah Jay, also of Quaker linage. Little is known about Thomas Hunt. Sarah Jay and Thomas Hunt's parents lived near each other in West River Precinct, Randolph county, Indiana. Both families were of the Quaker faith and are found in Quaker records. Thomas and Sarah married January 29th 1828 in Winchester, Randolph County Indiana, according to Indiana marriage records. Three children were born to this marriage. It appears that around the birth time of their third daughter, Thomas disappears or most likely died. Soon after Sarah takes her daughter and moves with her brother Dempsey and others to Henry County Iowa. There, Sarah meets and remarries Edward Beals. Descendants of Sarah Jay and Thomas Hunt are taken from the history of the Jay family in Henry County Iowa History, Volume 1. Second Marriage Notes for SARAH JAY and EDWARD BEALS: Marriage Book "C", License #745, p. 76, Edward Beals, age 37, and Mrs. Sarah Hunt, age 43, married April 26, 1851, married at Marmaduke Jay's home. License issued June 25, 1851. (perhaps dates reversed?)
Howell and Naomi Black came from Henry Co, Iowa to Lewis Co, WA about 1886/1887. The trip was made via the railroad in what was known as a tourist car. A few of the men made a trip out first to survey the area for a home. They then returned to the Boistfort area with the entire family. Room in the train was very limited and they share the cooking stove and car with 6 other families. These 7 families include the Longs, Allenders, and Blacks. They brought livestock in the livestock car. Howell spending much of the trip in the livestock car to ensure the livestock's safe passage.
They took up homesteads in the Boistfort area. They first settled near Moon Hill then moved into the Boistfort Valley. They homesteaded 80 Acers. There they raised hops. Life wasn't easy for the Black family. It was due to the entire family that they were able to maintain the hop yard and survive the period when prices were so low that many growers plowed them under. The prices ranged from $1.00 a lb. to .05 cents a lb. When the prices rose, it was profitable for those who kept them. Abe arranged many land exchanges and bargaining to improve his land. He sold a portion of his original 80 Acers for 40 Acers down along the bank of the Chehalis River, which proved to be yielding much better hops. Mile after mile, one could see hop yards joining. Many other neighboring farmers made a living from this crop, including George Wilson, Tommy Long, Charlie Long, Pat Roundtree, Hugh Roundtree to name a few. Hops were used mainly in the making of beer at that time and exported to Germany. Hop vines were good for several years when cared for properly. They were trained on poles 16' high and about 7' apart. Before harvesting usually in September, the poles were removed and the vine fell for pickling. Later growers trained the hops on strings and eliminated the erecting and eliminating the erecting and removing of poles annually. The hops had to be sprayed for disease and insects. A large barrel of water was pulled on a sled box drawn by horse, and the mixture of liquid repellant was pumped by hand and sprayed on the vines. The mixture was very strong and contained lead in it and left your eyes stinging.
Harvest was in September and Indians from Oakville and Cowlitz Prairie would come and camp on the farm during harvest time and help pick hops. Harvest required an enormous amount of manpower. School did not start in the local area until after harvest so the children could help with harvest. A worker could earn $1.00 a day, which was good wage at the time. The family relied on Clarence Youckton, son of the well-known Plug ugly to supply the needed number of Indian pickers. An especially memorable Indian was Plug Ugly who was always of interest to the children. He was known to choose reliable help. The Blacks had many fond and interesting stories of their relationships with the Indians. One fall an Indian fell from his horse breaking his neck which resulted in his death. The Chief asked if the body could be placed in the hayloft until the remainder of Harvest was over. The Indians believed in keeping the body high to enable the body to be closer to the creator. With the Indians singing and performing their native rituals, this was not a well-liked decision by the girls in the family. For in the Black family, milking of the cows in the barn was considered their duty. Each day the girls would cautiously go into the barn to milk the cows. The grieving survivors chanted and cried mournfully, and beat pots and pans while the girls completed their barn chores. Naomi said to the girls to make best of the situation and pick Wild flowers to place on the dead Indian. This pleased the mourners and eased the situation. When Harvest was over the body was placed on a wagon and taken home.
Abe and Naomi were devoted Christians and believers in God. They attended church regularly. Abe was one of the three school directors at the lower Boistfort (Curtis) school, though he only attended two or three years of school himself. He said he quit school after a disagreement with a teacher. When his wife asked him whom did you spite when you quit school he replied only himself. He was a supporter of school in any way possible as served the school as a director for several years. Most of their children attended the Curtis School.
Abe's wife Naomi preceded him by 15 years in death. Abe was taken care of by his housekeeper Mrs. Trippet until his death, which stemmed from a foot infection that never healed.
On Howell Abraham's 90th birthday Dec 18, 1947, the Chehalis Advocate Newspaper ran a short story and photo of him. The story read; "PIONEER TURNS 90. A Lewis Co resident since 1887, H. A. Black of Chehalis celebrated his 90th birthday Dec 19th. He was born in 1857 on Iowa and for years was a farmer near Curtis. He has five daughters and two sons, who are Anna Rayton, Ida Aust, Susie Stultz of Chehalis; Alice M. Wood of Centralia; Walter Black Sweet Home Oregon; and Cenith Bonham, Battleground. There are also 19 grandchildren and 32 great-grandchildren. The non agrarian resides at 1196 First Street Chehalis."
His obituary in the Chehalis Advocate Feb. 26, 1948 read: "H. A. Black Funeral services for H. A. Black 90, one of Chehalis oldest residents, were held at 2 P.M. Monday in the john W. Boone Chapel, Chehalis with the Rev. E. L. Frost officiating. Burial was in the Boistfort Cemetery. Mr. Black better known as Abe died Saturday in his home at 1196 First Street. He was born December 19, Mount Pleasant Iowa, and had been a resident of Lewis County for 60 years. Before moving to Chehalis he had been a farmer near Curtis for many years. Surviving are five daughters, Mrs. Alice Wood, Mrs. Anna Rayton, and Mrs. Ida Aust all of Chehalis; Mrs. Susie Stultz, Adna, and Mrs. Dean Bonham, Battleground; two son Edmond Black, Curtis, and Walter, Sweet Home Oregon; 25 grandchildren; 34 great grandchildren and four great great grandchildren." He was buried in the Boistfort Cemetery.
Lois Orloske Keen, Abe's great-great granddaughter wrote this short story about him:
"I was ten years old when Abe died. Neomi was deceased before I was born. I remember Abe being very frail, hard of hearing and walking with a cane. His hair was sparse and snowy white, matching his thin beard. His later days were spent hugging an iron stove for warmth, even though he was clad in Long John underwear all year round. He would sit around for hour with his feet on a metal stove guardrail, tilting back on his rocker. Eventually the rocker had worn a flat space, and would no longer rock smoothly, due to his constant sitting staunch. He spat frequently into his cuspidor or spittoon with amazing accuracy. When it came to financial matters the word skinflint could be used to describe him. In his lengthy life span he was a successful hop grower, dairy farmer and devote Christian. When he spoke he often quoted the bible and in his everyday speech used "Thee" and "Tho" a reflection of his ancestors Quaker affiliation.
To me there is one looming incident in his life that stands out. It is remembered because the family members liked to tell it with merriment.
Abe was a tea-to taller, refraining from social drinking of any alcohol and speaking strongly against its use except for medicinal purposes. While living in Boistfort, he and grandma faithfully worshiped at the Boistfort Community Church. In Their home they did keep a supply of whiskey for the relief of pain, from toothaches, fevers, colds and in earlier times child birthing. In Abe's eyes whiskey could be used for medicinal purposes without compromising his loyalty and faith to God.
After Grandma passed away Abe left the farm (now owned by Rene and Sue Remund) and purchased a small home in Chehalis proper. For many years he had a live in housekeeper and caregiver Mrs. Triplett. A good woman, she was a widow and her employment was mutually beneficial.
Each morning upon rising, Abe took a shot of whiskey to get his blood flowing and his bone moving. As he aged, he napped more and more throughout the day, sometimes unable to leave his bed but always keeping the bottle of whiskey by his bed. As he aged, his memory clouded and he sometimes became confused. Perhaps thinking it was a new day or just because he needed a little jumpstart, upon awaking he took a shot of whiskey.
One afternoon Mrs. Triplett phoned my grandmother Anna Black Rayton, so distraught she could hardly speak. "Mrs. Rayton you must come quick. I think your father had a heart attack and he is lying dead on the front room floor. I've shook him and tried to revive him with a wet cloth, but he doesn't respond. What should I do? Should I call the mortuary?
Shocked by the news and in grief, Grandmother began crying. Leonard and I will come as soon as possible. Leonard is in the hay field, and it will take time for me to get to him. Please call the funeral home. Always stead fast and dependable, Leonard was behind the wheel of their Plymouth sedan, speeding the four miles to Chehalis. Grandma never learned to drive an automobile. Grandma phoned her sister Ida to notify the other family members of their father's death before they departed.
Arriving at Abe's home, the sight of the black funeral hearse in front of the house filled Grandma with bereavement. The car had barely stopped and Mrs.. Triplett came running out to meet them. "He's not dead. He's not dead she cried. Your father is alive Mr. Rayton. Her proclamation reminiscent of Mary Magdalene in Biblical times at the first Easter.
When the mortician began to examine Abe's lifeless body, Abe stirred and mustered the words "By Kracke, what's going on here?
The strong odor of Alcohol made an assumption easy. Abe had just passed out form an over medication of too much whiskey. There were some needed retractions to be made before word of Abe's death spread too far.
There after Mrs. Triplet was instructed to be in charge of dispensing the firewater. For medicinal purposes only of course.
It was a few months later when God's true calling for Abe occurred. Black family members were peaceful knowing Abe was reunited with Neomi, and in God's presence. Abe's reward for a long a virtuous life. Both were buried in the Boistfort WA Cemetery."
Land Deed information include:
Found in Henry County land transfers.
H. Abraham Black and wife Naomi of Lewis County, Washington sold 160
Acres in Henry County IA in 1888 to J. E. Allender.
In WA state land Patents Howell A. Black was issued 160 acres, Date 8-8-1893, land office Vancouver, Doc nr: 2767, Accession /Serial Nr WAVAA 094755, BLM Serial Nr: WAVAA 094755, Aliquot Parts; S1/2 S1/2, Sec. 26, Township 13-N, Range 4-W, Tract Section: No, Meridian: Willamette, State: WA Counties: Lewis.
More About H
OWELL ABRAHAM BLACK:
Burial: Boistfort Cemetery, Lewis Co, WA
Notes for N
EOMI ALLENDER:
. Naomi died of cancer at St. Luke hospital in Centralia. She is buried next to her husband in Boistfort Cemetery, Lewis County WA.
Mrs. H.A. Black
Funeral services were held at Boone's Mortuary Saturday afternoon for Mrs. Naomi Black, 76, who died Thursday night at the family home near Curtis. She had lived in Lewis county forty-six years. Mrs. Black was born February 24, 1858 in Henry County, Iowa. Her death followed an illness of twelve days. Surviving relatives are the widower, H.A. Black; three sons, Levi Black, of
Chehalis; Edmond of Curtis and Walter of Corvallis, Oregon; five daughters, Mrs. William Wood, Kelso; Mrs. L.F. Rayton and Mrs. Frank Aust, Chehalis; Mrs. L.R. Stutz, Adna; and Mrs. W.H. Bonham, Battle Ground; twenty-five grandchildren and 15 great grandchildren. Rev. Carl Johnson of the Christian church officiated at the funeral. Burial was in Boistfort Cemetery. (NOTE: H.A. is Howell Abraham Black son of Abraham and Susan Cenith Black)
More About N
EOMI ALLENDER:
Burial: Boistfort Cemetery, Lewis Co, WA
More About H
OWELL BLACK and NEOMI ALLENDER:
Marriage: December 21, 1876, Mt Pleasant, Henry Co, IA
Children of H
OWELL BLACK and NEOMI ALLENDER are:
2. i. A
LICE MYRTLE
5
BLACK, b. May 10, 1877, Trenton, Henery Co, IA; d. February 25, 1955, Arilie, OR.
3. ii. L
EVI ELLSWORTH BLACK, b. March 17, 1878, Mt. Pleasant, Henry Co, IA; d. 1942, Ryderwood, Lewis Co. WA.
4. iii. E
DMOND BLACK, b. June 13, 1879, Iowa; d. March 04, 1971, Shelton Nursing home, Mason Co, WA.
5. iv. A
NNA CAROLINE BLACK, b. October 14, 1880, Mt. Pleasant Iowa; d. May 11, 1960, Chehalis, Lewis Co, WA.
6. v. W
ALTER MARION BLACK, b. April 14, 1881, Mt. Pleasant, Henry Co, IA; d. May 14, 1957, Sweet Home, OR.
vi. B
ENJAMIN CLEVELAND BLACK, b. May 14, 1886, Curtis, Lewis Co, WA.
Notes for B
ENJAMIN CLEVELAND BLACK:
Ben died at the age of 2 or 3 with Croup. He was buried at the small steep hill cemetery at Boistfort which lands had been donated by a local man, with the understanding and stipulation that a church would also be built neat to the cemetery. Later when the citizens chose a better site for the new Church, the donator withdrew his land. He removed the headstones and farmed over the land. It is believed that the headstone of Benjamin was lost at this time, and no exact date of death is known.
7. vii. S
USAN MARY BLACK, b. September 04, 1886, Mt. Pleasant, Henry Co, IA; d. May 11, 1955, WA.
viii. C
ENITH DEAN BLACK, b. June 01, 1888, Curtis, Lewis Co, WA; d. June 08, 1964, Vancouver, WA; m. WELCOME BONHAM.
More About C
ENITH DEAN BLACK:
Burial: Battleground, WA
8. ix. I
OWA NANCY (IDA) BLACK, b. September 07, 1890, Curtis, Lewis Co, WA; d. November 29, 1975, Bremerton, WA.
x. W
ILLIS BLACK, b. June 10, 1892, Curtis, Lewis Co, WA; d. July 22, 1892, Curtis, Lewis Co, WA.
xi. E
VA LENA BLACK, b. January 20, 1894, Curtis, Lewis Co, WA; d. May 29, 1911, Curtis, Lewis Co, WA.
Notes for E
VA LENA BLACK:
Died at age 17 of appendicitis.
Burial: May 30, 1911, Boistfort Cemetery, Lewis Co., WA
Generation No. 2: Children of Howell Abraham Black and Naomi Allender
2. A
LICE MYRTLE
5
BLACK
(HOWELL ABRAHAM
4
, ABRAHAM
3
, SAMUEL
2
, PETER
1
)
was born May 10, 1877 in Trenton, Henry Co, IA, and died February 25, 1955 in Arilie, OR. She married WILLIAM WOOD, son of FRANCIS WOOD and MALANA SIMPSON. He was born January 08, 1844 in Lawrence Co, AR, and died October 02, 1935 in Arlie, OR.
Notes for A
LICE MYRTLE BLACK:
Alice married William Newton Wood. The couple lived in Arlie, Oregon and had four children. William was 25 or 30 years older than Alice. They had four children, Earl, Lester, Carl and Gertrude. Earl died at an early age. Alice took in laundry and did housework for neighbors to help with family finances. William had difficulty finding a job that lasted. Physically, Alice was short and stout. She was an excellent cook and immaculate housekeeper. She had arthritis, and could only sit for short periods of time. She would have to get up and shake her feet saying," I have to get rid of the jim-jams." Family recalls taking trains to visits the Woods residence in Arlie OR. They would ride a passenger train then transfer to a logging train to get to the Woods home. Alice stayed true to the same Christian Church as her parents. Later years when William died and her sister Ida was widowed, she moved to Riverside in Chehalis to live with Ida. She would frequently spend a week or a few days with her sister Anna and Leonard at Claquato.
More About A
LICE MYRTLE BLACK:
Burial: Arlie, OR Cemetery
More About W
ILLIAM WOOD:
Burial: Arlie, OR Cemetery
Children of A
LICE BLACK and WILLIAM WOOD are:
i. E
ARL
6
WOOD.
Notes for E
ARL WOOD:
Earl died at the age of 12 of appendicitis.
ii. L
ESTER WOOD.
iii. C
ARL WOOD.
iv. G
ERTRUDE WOOD.
3.
LEVI ELLSWORTH5 BLACK
(HOWELL ABRAHAM
4
, ABRAHAM
3
, SAMUEL
2
, PETER
1
)
was born March 17, 1878 in Mt. Pleasant, Henry Co, IA, and died 1942 in Ryderwood, Lewis Co. WA. He married (1) SUSAN DAVIS, daughter of AUSTIN DAVIS and ABBY PAINE. She died July 1903 in Chehalis, Lewis Co., WA. He married (2) MARY HESTER RICE, daughter of GEORGE RICE and SARAH MATNEY. She was born December 15, 1883 in Eagle Point, Oregon, and died 1903.
Notes for L
EVI ELLSWORTH BLACK:
Levi Black was the oldest son, very handsome wearing a moustache when young. He married Hester rice of Boistfort, and while giving birth to their only child a son Orville she died. Levi moved back home with the Blacks, and Abe and Naomi Black raised little Orville. Levi married a second time to a beautiful Susie Davis and they had two sons Otis and Alden. The marriage did not work out- Susie Davis left Levi and her two sons. Susie's relatives, John and Elizabeth Siegworth, raised Alden. When Elizabeth died, her daughter Anna raised Alden. Otis lived with Abe and Naomi Black until Ida Black and Frank Aust married, and Otis lived with the Aust's through his childhood. Otis never married but surprisingly in 1988 Maxine Slangal from Scio, Oregon contacted the family revealing she was Otis daughter. Otis and her mother, Ann Jackson from Rochester WA were sweethearts and wanted to get married. The Jackson's however would not allow the couple to marry. Later having a daughter already by Otis Ann married Slangal. Maxine did not learn until later after her mother's death that Slangal was not her birth father but Otis Black was. In later years Levi became ill with a brain tumor and suffered much pain. Levi took his own life by a self-inflicted gunshot wound while living in Ryderwood, WA dying of cancer. He had a Catholic burial.
More About L
EVI ELLSWORTH BLACK:
Burial: Claquato Cem., Chehalis, Lewis Co., WA
Notes for S
USAN DAVIS:
She was related to the Paines through Marriage. She was hard of hearing and used a horn to her ear to hear. Susan left the marriage without divorcing.
Notes for M
ARY HESTER RICE:
Hester died July 23 1903 during the childbirth of her son Orville. Her obituary from the Winlock Pilot July 31, 1903 reads. "Died- Mrs. L. Black, July 23 at her home in Curtis. Funeral was last Saturday with internment at Claquato Cemetery. Hester Rice was almost 21 years of age and was the daughter of George Rice of Curtis. She married Levi Black Dec 17, 1900. Leaves besides her husband and parents, 3 sisters. She had been a resident of Winlock for about 2 years. Her infant son for whom she gave her life will be cared for by Mr. Blacks mother." Howell and Naomi Black raised Orville. He is age 6 on the 1910 census with Howell's family.
More About M
ARY HESTER RICE:
Burial: Claquato Cem. Chehalis, Lewis Co., WA
Children of L
EVI BLACK and SUSAN DAVIS are:
i. A
LDEN
6
BLACK.
Notes for A
LDEN BLACK:
John and Elizabeth Siegworth, relatives of Susan Davis, raised Alden. When Elizabeth Siegworth died, her daughter Anna mothered the family. They lived to Oregon.
ii. O
TIS E. BLACK, d. 1956, Lewis Co., WA.
Notes for O
TIS E. BLACK:
Frank and Nancy "Ida" Aust raised Otis. He died at the home of Lora Meyers while eating dinner. Otis had a daughter Maxine Slangal by Ann Jackson. They were never married.
More About O
TIS E. BLACK:
Burial: Claquato Cem., Lot 112 Sec. C, Chehalis, Lewis Co., WA
Child of L
EVI BLACK and MARY RICE is:
iii. O
RVILLE
6
BLACK, b. July 17, 1903, Curtis, Lewis Co., WA; d. July 19, 1981, Mt. View, CA; m. EVELYN JESSE TOWNSEND, June 20, 1936, Centralia, Lewis Co., WA.
Notes for O
RVILLE BLACK:
Howell and Naomi Black raised Orville. He is age 6 on the 1910 census with Howell Abraham blacks family.
More About O
RVILLE BLACK and EVELYN TOWNSEND:
Marriage: June 20, 1936, Centralia, Lewis Co., WA
4.
EDMOND5 BLACK
(HOWELL ABRAHAM
4
, ABRAHAM
3
, SAMUEL
2
, PETER
1
)
was born June 13, 1879 in Iowa, and died March 04, 1971 in Shelton Nursing home, Mason Co, WA. He married ROSEY WAKEFIELD. She was born in NE.
Notes for E
DMOND BLACK:
Edmond Black and Rosy Wakefield married at a young age for both. Rosy was a beautiful woman and had little domestic experience. The couple had seven children in rapid succession. The responsibility of the children and the necessity of housework overcame Rosy and their marriage failed. Some of the children remained with Ed, and some went with their mother. Ed worked as a logger, on county roads and maintained a small farm located to the turn off to Moon Hill. In later years he maintained Boistfort region telephone lines. He did not remarry and remained on the farm until final years when he needed health assistance. Edmond was a plug tobacco chewer (like his father Abe). One story told about Ed was he rode with friends to a social event with friends at Boistfort. He climbed into the back of the vehicle and sat down on a pie being taken to the event. He apologized, got up and moved over and then sat on the second pie! Ed drove a crank start antique ford vehicle, which received admiration and ahhs where ever he drove. Ed died at age 91in a rest home at Shelton after an extended illness.
Their Children are found on the Boistfort District 204 Greenwood ward 3 enrollment lists from 1912 until 1918when Greenwood closed its doors.
His obituary in the March 4, 1971 Chehalis Daily Chronicle reads: Edmond Black, 91, former long time Chehalis resident died Wednesday in a Shelton nursing home after an extended illness. He was born June 13, 1879 in Iowa and moved to the Chehalis area in 1888 and moved to Elma in 1955. He was a retired logger and farmer and a member of the Christian Church. Survivors include five daughter, Mrs. Lloyd Fuller, Raymond; Mrs. Edgar Swalley, Vennetta, Ore.; Mrs. Carl Fredrickson, Tacoma; Mrs. Frank McMillan, Ketchikan, Alaska, and Mrs.. Carl Hagen, Seattle; one brother Ralph Black, Olympia; one sister Mrs. Ida Aust, Bremerton, 16 grandchildren and numerous nieces and nephews. Services will be held at 11 A.M. Monday at the whiteside Chapel in Elma, with the Rev. Ralph Turnidge officiating. Burial will be in the Elma Masonic cemetery.
More About E
DMOND BLACK:
Burial: Elma, Masonic Cemetery
Children of E
DMOND BLACK and ROSEY WAKEFIELD are:
i. D
ORTHY
6
BLACK, b. Abt. 1906; m. LLOYD FULLER.
Notes for D
ORTHY BLACK:
They lived in Tumwater, Thurston Co., WA.
ii. R
UTH BLACK, b. Abt. 1907.
iii. M
ILDRED BLACK, b. Abt. 1909.
iv. R
ALPH BLACK, b. Abt. 1911.
v. A
BRAHAM BLACK, b. February 01, 1914, Lewis Co., WA; d. March 1914, Curtis, Lewis Co., WA.
Notes for A
BRAHAM BLACK:
He died of Whooping Cough.
From the Chehalis Bee Nugget; 23 Mar 1914
Abraham Black
Abraham Black, the two-year-old son of Mr. and Mrs. Edmund Black of Boistfort, died at the home of the family Thursday. The funeral was held from the residence Friday afternoon. Rev. E. Harris officiating. Interment was in the Boistfort cemetery under direction of E.C. Fissel.
More About A
BRAHAM BLACK:
Burial: March 13, 1914, Boistfort Cemetery
9. vi. E
LINOR C. BLACK, b. September 19, 1914, Clabber, Lewis Co., WA; d. October 06, 2001, Centralia, Lewis Co., WA.
vii. M
ARJORIE BLACK, b. Abt. 1917; m. CARL HAGEN.
Notes for M
ARJORIE BLACK:
They lived in Seattle, King Co., WA.
5.
ANNA CAROLINE5 BLACK
(HOWELL ABRAHAM
4
, ABRAHAM
3
, SAMUEL
2
, PETER
1
)
was born October 14, 1880 in Mt. Pleasant Iowa, and died May 11, 1960 in Chehalis, Lewis Co, WA. She married LEONARD FRANKLIN RAYTON October 26, 1904 in Boistfort, Lewis Co, WA, son of JOHN RAYTON and ANGELINE SMITH. He was born September 19, 1882 in Claquato, Lewis Co, WA, and died January 05, 1969 in Centralia, Lewis Co, WA.
More About A
NNA CAROLINE BLACK:
Burial: Claquato Cemetery, Chehalis, Lewis Co, WA, Sec. B, Blk 5, lot 302
Notes for L
EONARD FRANKLIN RAYTON:
Leonard Rayton was born Sept 18, 1882, on a farm in the Twin Oaks area where the Chehalis and Pleasant Valleys meet. He lived his entire life on the same farm, where three generations of Raytons were born. Leonard grew up in the Claquato area, fourth of eleven children to John Rayton and Angeline Smith Rayton. His Parents owned different properties in the Claquato, Boistfort and Cowlitz areas. After his parents divorced, Leonard quit school at age 16 to help his mother manage the 333 acres of farm in the Boistfort area on the South Fork of the Chehalis River. He agreed to stay on with his mother managing the farm until age 21 in exchange for 40 acres. There was an old house, barn and hop yard on the property. At age 21, Leonard learned there was a second mortgage on the property and had to make payment for the 40 acres of land. When he moved to Boistfort area, he met Anna Black. Anna, like Leonard, was the fourth of eleven children. She was born on Oct 14, 1880 in Mt.. Pleasant, Iowa. Anna's parents were Howell Abraham (Abe) Black and Naomi Allender Black, good-natured, Farming Quakers from Mt. Pleasant Iowa. At age four, Anna moved with her parents and siblings to settle in Boistfort / Curtis, area. Anna attended the Boistfort School until sixth grade, when she was needed at home to help with the family farm and hop yards. During the winters Anna worked at her uncle Ben Allender's, Iowa Restaurant and Boarding House in Chehalis.
Leonard and Anna fell in love. Preacher Harris, whom performed most of the marriages in the area, married Leonard and Anna in 1904 at the Boistfort parsonage. They were able to walk to the church, walk home and then upstairs for their honeymoon. Leonard and Anna lived in Boistfort for 2 years. They then sold their Boistfort farm and moved to Leonard's father's Claquato farm to assist him. After 3 years, Leonard's father John remarried and moved to Chehalis, leaving Leonard and Anna to stay on and purchase the farm of 128 Acers. In 1914, Leonard and Anna built a new house, and two years later a new barn which are both still standing on twin oaks road.
Leonard and Anna farmed their land growing grain and hay and operating a dairy. Leonard was an excellent farmer, rotating crops, and milking a large herd of cows by hand. He raised Holstein cows, showing his prized cows at the local fair. He was especially proud of a cow, which delivered a record number of gallons of milk in a 24-hour period. Leonard was one of about 600 charter members of the Lewis Co pacific Dairy Association that was formed in 1919. In 1922, He was one of the pioneering individuals who put up ten dollars a cow to start a cooperative. The association was formed in response to dissatisfied service from independent companies serving the area dairy farmers. Dairymen who lived a little too far off the road did not get their milk picked up and complaints about testing and milk prices were ignored. Leonard served on its board for 39 years, part time as the Vice President and then after the death of Harvey Schultz, as president.
Leonard farmed with horses, binder then combine and tractor. Leonard was a good natured and patient man. During the hay season he would take the neighboring children along on for rides on the loose hay and tie sleds to the back of the wagon for rides. Leonard and Anna raised raspberries, gooseberries, black caps, Logan berries, and strawberries along with various vegetables in their large garden. They planted 5 acres of field corn, planted for silage, which had to be hoed by hand twice during the season. The field then was planted the next season to seed grain and which had to be weeded by hand of wild mustard and radish. They, raised chickens for eggs, and meat. Eggs were taken to the West Coast grocery store in exchange for staple foods.
Four children were born to Anna and Leonard, Norman in 1906, Dora in 1907, Eva in 1911 and Lowell in 1916. All four children still live within a few miles of where they were raised. Leonard along with Gerry Paine, George Whitaker and C. D. Young built the Twin Oaks School near their farm. Their four children along with the neighboring kids all attended the school. Leonard named the school " Twin Oaks School" after the two pair of oak trees growing at the site. Leonard was a director of the twin oaks school and then continued on as a school board director at Adna when the two schools were consolidated.
Leonard and Anna bought their first car in 1917. It was a 1917 touring car. This two-seated automobile had snap on curtains. Owning your first motorized vehicle was a monumental event.
Anna and children attended the Adna Church faithfully. Anna taught Sunday school at the Adna Church for several years.
Anna passed away in 1960, at age 80 of a stroke. Leonard lived another nine years passing away in 1969 at age 86 from prostrate cancer which turned into bone cancer. They are both buried together in the Claquato Cemetery.
More About L
EONARD FRANKLIN RAYTON:
Burial: Claquato Cemetery, Chehalis, Lewis Co, WA sec. B. Blk 5, lot 301
More About L
EONARD RAYTON and ANNA BLACK:
Marriage: October 26, 1904, Boistfort, Lewis Co, WA
Children of A
NNA BLACK and LEONARD RAYTON are:
10. i. N
ORMAN EDWARD
6
RAYTON, b. April 25, 1906.
Married: Hannah Paine
11. ii. D
ORA DEAN RAYTON, b. December 25, 1907, Claquato, Lewis Co, WA; d. Chehalis, Lewis Co, WA.
Married: Max Leonard Orloske
12. iii. E
VA LENA RAYTON, b. January 20, 1911, Claquato, Lewis Co, WA.
Married Howard J. Stafford
13. iv. L
OWELL ELISWORTH RAYTON, b. March 12, 1915.
Married: Myrtle Foister Dorning
6.
WALTER MARION5 BLACK
(HOWELL ABRAHAM
4
, ABRAHAM
3
, SAMUEL
2
, PETER
1
)
was born April 14, 1881 in Mt. Pleasant, Henry Co, IA, and died May 14, 1957 in Sweet Home, OR. He married ELLA.
Notes for W
ALTER MARION BLACK:
Walter Black was known for his pranks and sense of humor. All of the Black family enjoyed good humor, but none took it to the level of Walter. Dora Rayton Orloske recalls their family always looked forward to visits from Walter and his family at any time and enjoyed his humor and pranks. While at Boistfort, Walter was a sweetheart with a young girl whose parents did not approve of the relationship. There was a confrontation with the girl's parents and Walter moved to Oregon to have a cooling period. He moved to Sweet water Oregon with his sister Alice, where jobs were plentiful during the logging hay day era. While there he met his future wife Ella. According to Ella it was not love at first sight. Ella found Walter to be outspoken and brazen. At a picnic they both attended near a creek, Ella was worried about getting wet crossing the creek, without a word Walter scooped her up and carried her across the creek. She slapped him. Walter was persistent and finally won her over. They married and had one child Andy. Walter worked in the Sweet Home sawmill, becoming the head sawer, or the worker to make the first cut to determine the best cuts to get the most lumber from the tree. Walter was a whiz at math. During his childhood days at Boistfort School, teachers relied on him to tutor younger students. Andy the only child of Walter and Ella contracted TB and was in a TB sanitarium for a long period of time. The entire married life of Walter and Ella was spent in Sweet Home Oregon.
Child of W
ALTER BLACK and ELLA is:
14. i. A

NDY

6

BLACK.

7. S

USAN MARY5 BLACK (HOWELL ABRAHAM4, ABRAHAM3, SAMUEL2, PETER1)

was born September 04, 1886 in Mt. Pleasant, Henry Co, IA, and died May 11, 1955 in WA. She married LEROY RICHARD STULTZ. He was born Abt. 1880 in NE.

Notes for S

USAN MARY BLACK:

Susie raised three stepchildren from Richard's prior marriage. The stepchildren names were: George, Gertrude and Margaret.

Child of S

USAN BLACK and LEROY STULTZ is:
i. R
ICHARD
6
STULTZ, b. Abt. 1917.
8.
IOWA NANCY
(IDA)
5
BLACK
(HOWELL ABRAHAM
4
, ABRAHAM
3
, SAMUEL
2
, PETER
1
)
was born September 07, 1890 in Curtis, Lewis Co, WA, and died November 29, 1975 in Bremerton, WA. She married FRANK AUST May 15, 1909 in Chehalis, Lewis Co., WA, son of JAKE AUST and REGIN. He was born 1885 in Kansas.
Notes for F
RANK AUST:
Frank was born in Kansas. He came as a child with his parents to Pe ell WA. The homestead was located on what is now the Pe Ell McDonald road. Frank changed his name from Ast to Aust. He w
More About F
RANK AUST and IOWA BLACK:
Marriage: May 15, 1909, Chehalis, Lewis Co., WA
Children of I
OWA BLACK and FRANK AUST are:
i. M
ELVIN
6
AUST.
ii. E
LLA AUST.
iii. W
ARREN AUST.
iv. F
RANCIS AUST.
v. L
EE AUST.