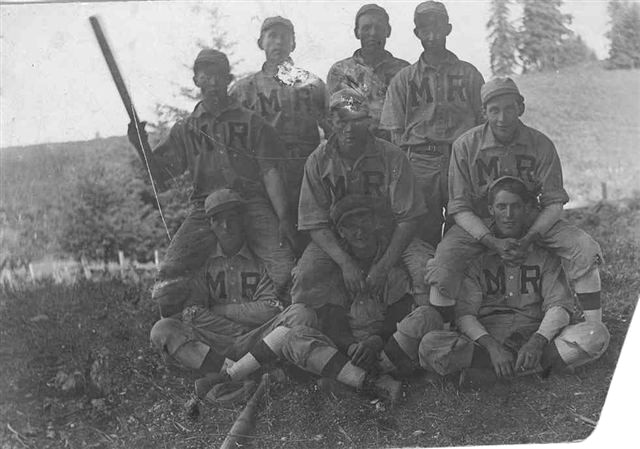 This picture was submitted by Tami (DeRossett) Moorcroft. Here are her comments on the picture:
"This is a picture of a Mossyrock Town Team...I am not sure what year, though my Grandad doesn't look that old.....He is Neil McMurry and he is the middle one sitting on the other guy's shoulders...I don't know anyone else in the picture - maybe someone will...."
[Updated, 21 Jun 2015]: Linda Collins Holt provided additional information about the men in the photo: "My grandfather, Robert F. (Bob) Riley, is in the photo. He is sitting on the shoulders of the man on the right side of photo. That man's name is William (Bill) Filmore. He later became Bob Riley' s brother-in-law. Bill's mother was a Swigert. Bob's mother was Evaline Young, daughter of William and Emmaline Young of Young Road, Mossyrock. Bob's father was an Irish immigrant named James Riley who was from Cavan County. He owned acreage across from the Young homestead on Young Road. Some of this Riley land is still owned by family members today. Bob's wife was Martha Washburn."