A. C. Simmons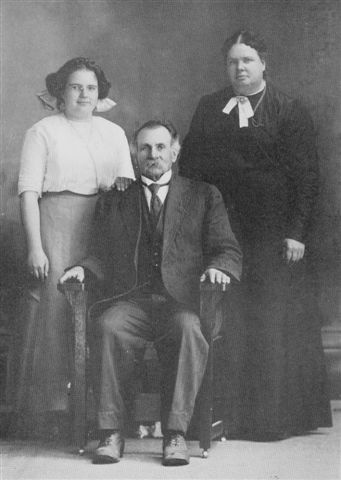 (A. C. Simmons and Family)
Gaston, Joseph. "The Centennial History of Oregon, 1811 - 1912." Vol. 2. Chicago, S. J. Clarke Publishing Co., 1912. p. 784.
A. C. SIMMONS
who is engaged in general farming, stock-raising, and fruit growing, resides two miles southwest of Gervais, in Marion county. He was born in Marion county, March 1, 1855, the son of John and Emily (Garrett) Simmons, both natives of Indiana, the father of English and Scotch descent and the mother of Carolina parentage. The father and mother were married at Winchester, Indiana, where they resided until 1852, when they crossed the plains with ox teams and purchasing two hundred acres of land near Gervais, in Marion county, resided there twenty years. At the end of that time, selling their farm, they bought two hundred and fifteen acres near Belpassi, where they lived for ten years. Subsequently selling this they resided two years in Washington county and then came back to Marion county and bought three hundred and fourteen acres near Gervais, which they later disposed of and then moved to Linn county. The father lived with his daughter near Gates until his death in January, 1900, the mother having died in 1884. In their family were thirteen children, the location of only four of whom is now known. These are: A. C., of this review; Mary, now Mrs. A. Miller of Oregon City, Oregon; James, of Idaho; and Edward M., of Seattle, Washington.
A. C. Simmons received a good common-school education and remained under the parental roof until he was twenty-three years of age, when he started farming for himself on a tract of land owned by himself and his father, which they later sold. He then married and moved on his wife's farm, to which he has later added until they now own two hundred and twenty-seven acres of finely improved land, all of which is in a high state of cultivation. The farm is located eleven miles north of Salem and two miles southwest of Gervais on an old stage road. Mr. Simmons makes a specialty of general farming and stock-raising, and is also engaged in fruit growing. His special breeds of live stock are Cottswold sheep, Clydesdale horses and Shorthorn cattle. He also raises Plymouth Rock chickens.
Mr. Simmons was married November 20, 1895, to Miss Emma Jones, who was born in Marion county, January 22, 1856. She is a graduate of Willamette University in the class of 1877, and taught school in various parts of Oregon for ten years previous to her marriage. Her parents were S. W. R. and Elizabeth (Allen) Jones, the father a native of Clark county, Kentucky, and the mother of Owen county, Indiana. They were married in Indiana where they lived until 1853, when they crossed the plains and came to Oregon, settling in Marion county, where they resided on a farm until the mother's death in April, 1890. The father then returned to Kokomo, Indiana, where he passed away in November, 1911, at the venerable age of ninety-seven years. They were the parents of fifteen children, seven of whom, besides Mrs. Simmons, are still living. They are: Mrs. Susana Hunsaker and Mrs. Sarah Clarke, both of Portland; S. A., M. L. and S. W., of Marion county; and Scott and Harris, who are twins and reside in Marion county. Those who are deceased were: Thomas; J. P.; Rachel Fain; W. H.; J. C.; J. B.; and Lizzie F. Mr. and Mrs. Simmons have one daughter, Alpha E., born September 7, 1896, who is now attending school at Mount Angel Academy and also receives a musical education.
In politics Mr. Simmons believes in the democratic principles but he has never been a seeker for office. He was reared in the faith of the Catholic church but now is not affiliated with any religious organization. His wife is a member of the Christian church. In his various pursuits of agriculture lie is very enterprising and successful and may well be considered one of the substantial farmers of Marion county.
Transcriber's additional notes:
Census 1880, June 24; Marion Co, OR; Gervais Pct, p 110
John Simmons, 64, IN, NC, NC, farmer
Emily, wife, 62, IN, NC, NC
Catherine, dau, 42, OR
Edward, son, 40, OR
Lewis J, son, 30, IA, IN, IN, works on farm
Calep A, son, 25, OR, IN, IN, works on farm
Mary A, dau, 20, OR, IN, IN
Mary Comer?, 34, WI, IRE, IRE, no occ.
1910, April 27; Marion Co, OR; Gervais Pct, p 137
Caleb Simmons, 55, OR, IN, IN, mar 14 yrs, farmer
Emma, wife, 54, OR, KY, IN, mar 14 yrs, 1 child-1 living
Alpha, dau, 13, OR, OR, OR
****************
Submitted to the Oregon Bios. Project in June 2008 by Diana Smith. Submitter has no additional information about the person(s) or family mentioned above.