Rev. Augustus J. Coudeyre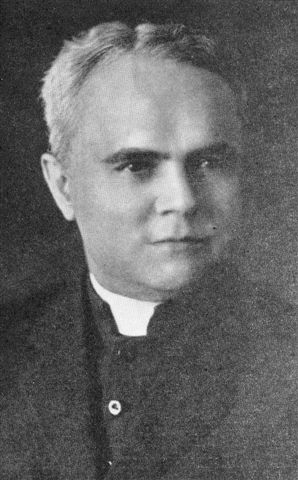 Lockley, Fred. "History of the Columbia River Valley, From The Dalles to the Sea." Vol. 3. S. J. Clarke Publishing Co., 1928. p. 760.
REV.AUGUSTUS J. COUDEYRE, S. J.
Rev. Augustus J. Coudeyre, S. J., a man of scholarly attainments whose consecrated labors have long constituted a factor in the intellectual and moral progress of the Pacific northwest, in now in charge of a very prosperous parish as pastor of St. Ignatius church of Portland. He was born in southern France on the 30th of June, 1875, a son of Martin and Mary (Mournette) Coudeyre. He has two brothers who are priests in France, namely. Emile, a missionary in the Redemptoriat order; and Celestin, who is in charge of a parish.
Augustus J. Coudeyre received his early educational training under the Brothers of La Salle and subsequently entered the Jesuit Fathers' College at Lyons, France, which conferred upon him the degree of Bachelor of Arts in 1894. In June of that year he made the voyage to the United States and entered the Jesuit order in Spokane, Washington. He there resumed his studies and later began mission work among the Indians on the reservation at Umatilla, Oregon, continuing at that place for three years and afterward spending two years on the reservation at Colville, Washington. Five years among the Indians of the northwest gave him a very thorough knowledge of the red men and their history. Following this experience he pursued a four years' theological course in St. Louis University of St. Louis, Missouri, where he was ordained to the priesthood on the 27th of June, 1907. Immediately afterward he went to Yakima, Washington, where he served as assistant pastor for one year. With his broad intellectual training, however, it was deemed best that he enter the educational field and thus he accepted a position at Gonzaga University of Spokane, Washington, where he taught languages and mathematics for four years. On the expiration of that period he went east to Poughkeepsie, New York, for special or postgraduate work. A year later he returned west and during the succeeding twelve years was prefect of studies at Seattle College, a Jesuit institution. His next removal took him to Tacoma, Washington, where he was principal of St. Leo's College for one year, and then for a similar period he was again connected with Seattle College. In response to an insistent call, he next returned to Gonzaga University of Spokane as principal of the high school, thus continuing until August, 1927, when he was appointed pastor of St. Ignatius parish of Portland.
The history of the parish is a most interesting one. It was about the year 1909 that Rev. Francis Dillon came to Portland as the first Jesuit priest and purchased twenty-five acres of land for the order. Father Dillon now lives at St. Ignatius Mission near Missoula, Montana. There are five provinces of the Jesuit order in the United States; New England at Boston, Massachusetts; New York and Maryland at New York city; New Orleans; Missouri at St. Louis; and California at Portland. The last named was formerly located in California but on account of the geographical location the Pacific Coast headquarters were changed to Portland. With the inception of St. Ignatius parish soon thereafter, a handsome three-story brick building was erected and this was dedicated in 1909. School was begun with only a few pupils and there are now nearly three hundred students taught by eight Sisters of the Holy Name, for whom a special home has been erected. A large modern schoolhouse has also been built. The plans of the founder are gradually being worked out with a view to making St. Ignatius a great educational center offering the finest college facilities. There are nearly two hundred and fifty families in the parish and great things are hoped for under the leadership of the new pastor, Father Coudeyre.
OBITUARY
Oct. 15, 1939; The Seattle Daily Times, p 10
"Priest Dies"
The Rev. Augustine J. Coudeyre
The Rev. Augustine J. Coudeyre, S. J., for thirty-five years a prominent figure in the Northwest's Catholic hierarchy, died of heart disease in Providence Hospital at 4:30 o'clock yesterday afternoon.
Having returned two weeks ago from an Alaskan trip to resume his post as assistant pastor of St. Joseph's church, Father Coudeyre became ill and was taken to the hospital several days ago.
Funeral arrangements are in charge of the Bonney-Watson Funeral Home. The body will lie in state from 4:30 o'clock this afternoon at St. Joseph's 18th Avenue North and East Aloha Street. The Office for the Dead will be said at 7:30 o'clock tonight at the church and mass will be said at 9 o'clock tomorrow morning for Father Coudeyre. Interment will be Tuesday morning at the Society of Jesus Cemetery at Mount St. Michael's, Spokane.
Father Coudeyre was born in France on June 30, 1875. While in France he became friends with the Most Rev. Joseph R. Crimont, bishop of Alaska. It was to act temporarily as Bishop Crimont's secretary that Father Coudeyre left St. Joseph's Parish last summer.
Father Coudeyre was principal of Seattle Preparatory School when that institution was housed at Broadway and East Marion Street. He also was a former principal at Gonzaga High School, Spokane. He served as pastor at St. Xavier's Church in Missoula, Mont., before coming to St. Joseph's Church in Seattle six years ago.
*******************
Submitted to the Oregon Bios. Project in October 2011 by Jeffrey L. Elmer. Submitter has no additional information about the person(s) or family mentioned above.