Aaron Rose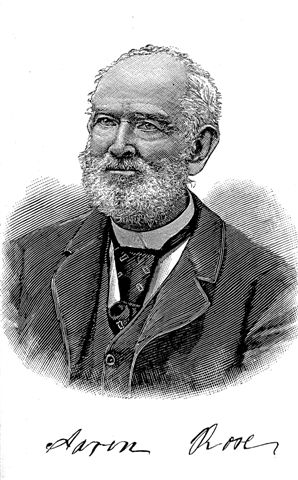 Hawthorne, Julian. "The Story of Oregon." Vol. 1. New York: American Historical Publishing Co., 1892. p. 255.
AARON ROSE
One of the earliest settlers of the Umpqua Valley is Aaron rose, of Roseburg, Douglas County. Mr. Rose was born in Ulster County, in the State of New York, June 20th, 1813, and received a good common-school education in his native county. He started life in a humble way, working his father's farm on shares when at the age of eighteen. At the age of twenty-four he removed to Girard, Mich., where he engaged in farming for the ensuing thirteen years with success. In 1838 he was married to Miss Minerva Kelley in 1851, becoming imbued with the Western fever, he removed with his family to Oregon, where he arrived after an arduous trip of four months across the plains with a horse team. He settled on the present site of Roseburg (named in his honor) September 23d, 1851, being the first man to locate there. He at once built a house and engaged in farming, in which he was very successful. His house was for many years used as a tavern and trading post, which will be kindly remembered by all the old pioneers who were wont to pack or travel over the road to and from the mines. The McClallan House is on the site of Mr. Rose's old homestead, part of it being the original structure. In 1854 the county seat of Douglas County was removed, by popular vote, from Winchester to Mr. Rose's farm, upon which a town was laid out, which was named Roseburg by the settlers. Mr. Rose possessed a donation claim of three hundred and twenty acres of land, which he secured by paying $500 to another party who had some claim to the land. That Mr. Rose is a public-spirited man was shown by his liberality at the time in donating the site for the public buildings, and contributing $1,000 toward the erection of the first court-house. He was elected a member of the Territorial Legislature of 1855-56 as a Democrat, but since has not been a candidate for any office. Possessing great energy, combined with far-seeing design, he has always been foremost in every public enterprise looking to the advancement of Roseburg in which he takes a natural but pardonable pride. Upon the completion of the Oregon and California Railroad to Roseburg, he laid off a handsome addition to the city, one half of which he donated to the company as a bonus for the establishment of a depot. He also caused the erection of a dam on the South Umpqua River, which is now utilized to run the city water-works, a woollen mill, and a roller flour mill, giving his personal supervision to the business of the latter. Beside his large interests in the above enterprises, Mr. Rose owns a one-sixth interest in the coos Bay road, and is a director and stockholder in the Douglas County Bank. He possesses a fine homestead, with extensive land around it. Personally, Mr. Rose is under the average stature, but at his present advanced age is still active and hearty. With a kind and genial disposition, and generous to a fault, he is beloved by all, and it goes without saying that his enemies are few. He is very hospitable, delighting in entertaining his friends and in talking over the early days, concerning which he has a fund of interesting anecdotes. Mr. Rose married twice, his second wife being Miss Frances Arrington. He has two daughters by his first wife, and a son and daughter by his second.
*******************
Submitted to the Oregon Bios. Project in August 2008 by Diana Smith. Submitter has no additional information about the person(s) or family mentioned above.