Christian Breding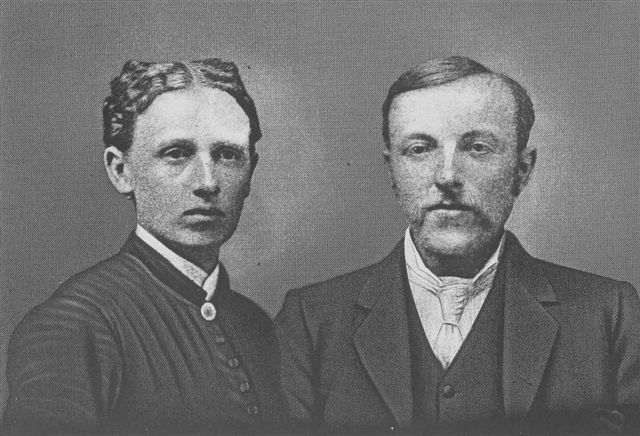 (Mr. and Mrs. Christian Breding)
Gaston, Joseph. "Oregon Pictorial and Biographical." Chicago, S. J. Clarke Publishing Co., 1912. p. 383.
CHRISTIAN BREDING
In recent years wheat-growing has been one of the important sources of prosperity of Umatilla county in eastern Oregon, and to the cultivation of that commodity Christian Breding is devoting his time and efforts. That his methods are practical and progressive is indicated by the substantial results which follow his labors and which are making him one of the men of affluence of this part of the state. He was born in Holstein, Germany, October 4, 1861, and spent his in the country of his nativity where his parents died. He was twenty-two years of age when in 1883, he sailed for the new world, attracted by the favorable reports which he had heard concerning its business opportunities. He lived for a year in Illinois and in 1884 made his way westward to Washington, residing for eighteen or twenty months in Walla Walla. He then came to Umatilla county and for a year worked upon a farm for wages, but was ambitious to engage in business for himself and carefully saved his earnings. He purchased a half section of land seven miles north of Pendleton and began farming on his own account. He has since added to his landed posses from time to time until his holdings are now very extensive, embracing over three thousand acres of valuable wheat land in Umatilla county. Year after year he carefully cultivated his fields and harvested large crops, the sale of which brought him very substantial and gratifying results. In 1911, he retired from active farm work and now rents his land while he enjoys a well merited rest in a handsome home in Pendleton.
In 1885 Mr. Breding was married to Miss Ella Eggers, a native Illinois, who came to Umatilla county with her parents. The children of this marriage are eight in number: Cecelia, the wife of Than Olmstead, a farmer of Umatilla county; Alexander, at home; Fritz, who follows farming in the same county; Carl, who resides on his father's land; Helwig, at home; Pauline, William and Frederick, are attending school. Mr. and Mrs. Breding are members of the Evangelical church and are interested in its work and the extension of its influence. Mr. Breding is republican in his political views but has neither time nor inclination to seek office. He came to this country a poor young man and in about twenty-eight years has had the most creditable and gratifying success, being today numbered one of the leading and substantial citizens of Pendleton. In the past he always displayed excellent judgment in his investments, carried by his farm work along most progressive and practical lines and from time to time placed his surplus earnings in the safest of all investments, real estate, so that he is now the owner of much valuable property.
****************
Submitted to the Oregon Bios. Project in June 2008 by Diana Smith. Submitter has no additional information about the person(s) or family mentioned above.