Henry Blackman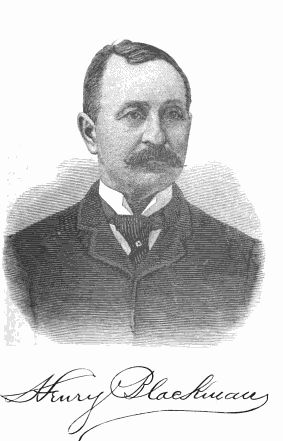 Hawthorne, Julian. "The Story of Oregon." Vol. 1. New York: American Historical Publishing Co., 1892. p. 412.
HENRY BLACKMAN
There is no more popular man in Eastern Oregon than Henry Blackman, Mayor of Heppner. It falls to the lot of but few active participators in the affairs of every-day life to have no enemies. In fact, the rule seems to be that the more active a man is and the more successful he becomes, the more numerous are his enemies. Mr. Blackman appears to be an exception to this rule, for it would be difficult to find, within or without the bounds of the State, an individual who bears him ill-will. Mr. Blackman belongs by birth to the metropolis of the United States. He was born in New York City in 1848, and was taken by his mother to California when only two years old. Brought up a San Francisco boy, he was sent to school at an early age, and speedily distanced all his classmates in the extent of his attainments. At the San Francisco Business College he obtained a sound and practical commercial training, which has stood him in good need ever since. In 1878 Mr. Blackman married the sister of Mr. Henry Heppner, and two years afterward settled at Heppner, Ore., engaging in business with his brother-in-law. He purchased Mr. Heppner's interest in 1889, and conducted a general merchandise business under the firm name of H. Blackman & Co. Mr. Blackman has been very fortunate in his mercantile transactions. As director and stockholder in the First National Bank of Heppner, he is well and favorably known. He is also one of the directors of the Park Hotel, and owns a well-stocked and well kept farm four miles from Heppner. With so many important matters to attend to he is kept busy ; still he manages to discharge all his duties with justice to others and with credit to himself. It may be said here that Mr. Blackman is interested in the National Bank of Heppner, and holds stock in the Heppner Building Association. He has done much toward the building of churches and schools, is a Mason of high standing, and Past President of the Independent Order of B'nai Brith. The highest tribute that can be paid to Mr. Blackman is that he has been three times Mayor of Heppner, and that, on the occasion of his last election in 1890, not a single vote was recorded against him. In this respect he stands unique among the mayors of the United States. By political faith a Democrat, he possesses the extraordinary faculty of bringing the Republicans over to his side when he is a candidate for office. In June, 1890, he carried the Republican Senatorial District, consisting of Grant, Harvey, and Morrow counties, by a very large majority. While in the Senate, Mr. Blackman took an active interest in general matters, but paid special attention to the interests of his district. He successfully advocated legislation for the wagon roads and for the Portage Railroad. In the Australian ballot measure and in the bill relating to the consolidation of Portland he also took a deep interest. As a matter of course, the material welfare of Heppner has always been one of the primary objects of Mr. Blackman's ambition. He desires, above all things, to see the city advanced in prosperity, to witness its improvement and expansion, the development of its school system, and the general good of its inhabitants, particularly that of the little ones, who in a few years will have everything in their own hands. It is pleasant to note that in his domestic life Mr. Blackman is blessed with all the elements which contribute to real contentment. He has a happy home, graced with the adornments which affection only can bestow, and surrounded by every condition which makes life worth living.
*******************
Submitted to the Oregon Bios. Project in August 2011 by Diana Smith. Submitter has no additional information about the person(s) or family mentioned above.