H. K. Hines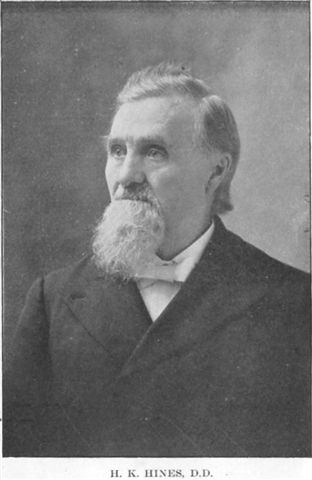 (This photo was contributed by Harold J. Peters and is from the book Missionary History of the Pacific Northwest by H. K. Hines, published in 1899.)
Hines, H. K. "An Illustrated History of the State of Oregon." Chicago: Lewis Pub. Co. 1893. p. 634.
H. K. HINES, D.D.
(Harvey Kimball Hines)
the youngest of twelve children of James and Betsy (Round) Hines, was born in Herkimer county, New York, in 1828. His ancestral line, on his mother's side, is clearly traced back to Edward I of England through Lawrence Wilkinson, from whom Mr. Hines is the fourth in descent. His own grandfather, Bartram Round, was an Ensign and Lieutenant in the Revolutionary war. On his father's side he is a descendant of the Hopkins of Rhode Island, and of the Churches of Massachusetts, who came from England in Governor Northrup's fleet in 1630 and landed at Plymouth. It will thus be seen that he inherits pioneer blood.
His early life was spent in Oswego county, New York, to which his family emigrated when he was three years of age. Then almost literally a wilderness, that region afforded him very limited scholastic advantages. In his fourteenth year he was converted, and before he was sixteen he was licensed to exhort by Rev. William Peck, an older brother of Bishop Peck. Early in his nineteenth year he was licensed to preach, and soon after, removing to Western New York, he was employed as a supply on Eden circuit in the Genesee Conference to take the place of Gilbert De la Matyr, whose health had failed. When just twenty he was admitted into the Genessee Conference on trial. In that conference he served such appointments as Wyoming, Pearl Street, Buffalo, and Niagara Falls.
In December, 1852, he was transferred by Bishop Waugh to the Oregon Conference, and the following summer crossed the plains with an ox team, reaching Portland October 3, 1853, to which charge he had been appointed by Bishop Ames at the first session of the Oregon Annual Conference. His time of actual service on this coast has been thirty-nine years; eleven years on stations, sixteen as Presiding Elder, one as College Agent, eight as editor of the Pacific Christian Advocate, and three as Theological Professor.
As Presiding Elder he has had charge of all the State of Washington, nearly all of Oregon and Idaho, and his travels over them have made him more widely known, personally, without doubt, than any other minister of the Pacific Northwest.
He represented the Thirteenth General Conference District in the General Missionary and Church Extension Committees of the Methodist Episcopal Church, from 1876 to 1880, and on the resignation of J.H. Wilbur from the same committees in 1886 he was elected by the Board of Bishops to succeed him, thus making six years' service therein.
He was elected by the General Conference Commission on Ecumenical Conference one of the seven representatives of the Fourteenth General Conference District in that body, and attended its sessions in Washington, D.C., from its opening to its close.
Dr. Hines estimates his travels in the service of the church on this coast to have been by rail and steamboat 75,000 miles, by stage 5,000 miles and by his own private conveyance not less than 100,000, making an aggregate of 180,000 miles. He has preached about 6,000 sermons, held 900 quarterly meetings, dedicated 54 churches, and been called to deliver many memorial addresses of pioneers, both preachers and people.
He has also been quite active in political life. During the days of secession he was one of the staunch supporters of the Union, and delivered the first political speech coming from any minister on the coast. He was president of the Territorial Council of Washington, and a member of the Legislature during the sessions of 1864 and 1866. In 1876 he was a Republican delegate to the National Convention at Cincinnati, which nominated R.B. Hayes for president.
Dr. Hines was married at Wyoming, New York, in 1852, to Miss Elizabeth J. Graves, a lady endowed with the true Christian spirit and great strength of character. She was an able helper in all missionary work, and by her personal effort and enthusiasm was organized the Woman's Christian Temperance Union of Oregon, of which she was the first president. She was well and favorably known throughout the State for her many deeds of kindness and charity. She was called to her last rest in January, 1889, leaving a bereaved husband and two children, James A. and Lua A. The latter is now the wife of C.K. Cranston. The Doctor lives with his daughter at the corner of East Washington and Seventeenth streets, Portland, where he built a handsome residence in 1884.
As trustee he has had a close connection with the Willamette University since he came to the State, and during 1890 and 1891 was Professor of Theology in that institution. In May, 1892, he was a delegate from the Idaho Conference to the General Conference of the Methodist Episcopal Church at Omaha. He is a member of the Sons of the American Revolution, and is Past High Priest of the Chapter of Royal Arch Masons.
Dr. Hines is now one of the honored professors of the theological department of the Portland University. His forty-four years of faithful work have been of great service and have been marked by ability, industry, constancy, and efficiency. His capacity for hard work in both study and field has supplemented his ability in the pulpit and the promise of his early years has been fulfilled. The wide field covered by his labors and the variety of the work to which he has been called, has enabled him to an extent given to but few, to impress himself for good on the civil and ecclesiastical affairs of the Empire of the Northwest.
He is still vigorous in body and mind and promises to do work equal to his very best for a number of years to come.
*******************
Submitted to the Oregon Bios. Project in August 2008 by Mr. Harold J. Peters.
"As a third great grandnephew of Hines, I have accumulated a great deal of additional information concerning him, from which I am preparing an extensive biography. Earlier this year I published a book covering his 1853 trip from New York to Oregon: Seven Months to Oregon: 1853 (See http://www.patricepress.com).