John B. Bowden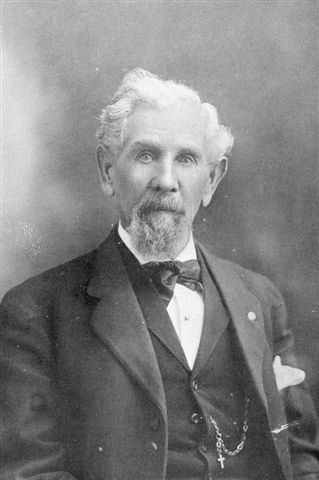 Gaston, Joseph. "The Centennial History of Oregon, 1811 - 1912." Vol. 2. Chicago, S. J. Clarke Publishing Co., 1912. p. 482.
JOHN B. BOWDEN
a retired ranchman of Baker City, is one of the pioneers whose early years on the frontier were filled with interesting, startling experiences, which he describes most graphically and entertainingly to the present generation, that is hardly able to fully comprehend and appreciate the wonderful change that has taken place in the northwest during the past forty years. He was born in Philadelphia, Pennsylvania, on the 24th of June, 1834, and is a son of John B. and Johanna Bowden, the father a native of Scotland and the mother of Spain. In his early manhood John B. Bowden went to Spain and there he met the lady, who subsequently became his wife. Soon after their marriage they came to the United States, settling in Philadelphia. In 1846 the father went to South America, and there he passed away. After his death the mother returned to her native land to make her home, her demise occurring there in 1853. The family of Mr. and Mrs. Bowden numbered ten, all of whom are now deceased with the exception of two.
The first twelve years in the life of John B. Bowden were passed in the city of his birth and there he received a common-school education. While still in his early boyhood he decided to become a sailor, being strongly attracted toward that life and, in 1846, he left home and went to sea. He made two trips around the world and in 1853 landed in San Francisco, from which port he thereafter sailed. Soon after his arrival there he shipped as an able seaman on an American mail steamship line, and as he was industrious and ambitious applied himself intelligently to the discharge of his duties and won rapid promotion, subsequently becoming second mate. Later he left the service of this company and entered that of the Ben Holiday Steamship Line, continuing in their employ in the capacity of first mate until he left the sea in 1866. As his entire career up to that period had been passed at sea, the duties in connection with many positions on land were utterly foreign to him, but he had acquired during his service two essentials - how to obey and to command - and his were three great qualities, resourcefulness, executive ability and sagacity which constitute fundamentals to success in any line. His many years at sea and experiences with all kinds of men and situations had made him absolutely fearless and when the Wells Fargo Express Company offered him the position of collecting the gold at the placer mines throughout Idaho and Nevada and delivering it to its depots of safety he readily accepted, although he knew he would be in constant danger from highwaymen and Indians. His headquarters were at Silver City, Idaho, and from there he traveled over his entire territory by stage. Oftentimes on his rounds he encountered the Indians, and once he was stopped by a road agent. Fortunately he only had ten thousand dollars with him, and this he managed to save through strategy. That was his last trip, as he resigned when he again reached his headquarters, and took up a claim on Snake creek and turned his attention to agricultural pursuits. There for twenty-eight years he engaged in the raising of cattle and horses, meeting with success in his undertakings. His ranch was located a considerable distance from any settlement or habitation, and on two different occasions he and his family were compelled to leave to escape from the Indians. For protection from attack if all avenues of escape were blocked, Mr. Bowden erected a fort on his ranch but never found it necessary to resort to it for making a last stand. In 1892, he removed with his family to Santa Rosa, California, in order to give his children the advantage of better educational facilities. He purchased a residence there and continued to make it his home for six years. At the expiration of that period he returned to the ranch, remaining there until 1908 when he sold his place and all of his stock and came to Baker City to live. Mr. Bowden has been successful in all of his undertakings and in addition to his pleasant home at Baker City, is the owner of some other city property and four hundred acres of fine timber land, while together with his family he owns thirty-two hundred acres of land in Malheur county, this state.
For his wife and helpmate, Mr. Bowden chose Miss Mary A. Madden, of New York city, and they became the parents of nine children, all but two of whom were born on their ranch. Seven of their children attained maturity and are still living.
In matters of religious faith they are Roman Catholics, and Mr. Bowden votes the republican ticket. He has not figured to any extent in political activities but he served for ten years as postmaster. He is most enthusiastic in extolling the great northwest in whose brilliant future he faithfully believes. Large sections he has seen transformed from great expanses of prairie and vast forests into rich grain fields and valuable orchards, and where there was not a sign of human habitation when he rode the plains when in the employ of the Wells Fargo Express Company, there are now to be found thriving towns and cities with all modern comforts.
****************
Submitted to the Oregon Bios. Project in August 2007 by Diana Smith. Submitter has no additional information about the person(s) or family mentioned above.