Julius Hudemann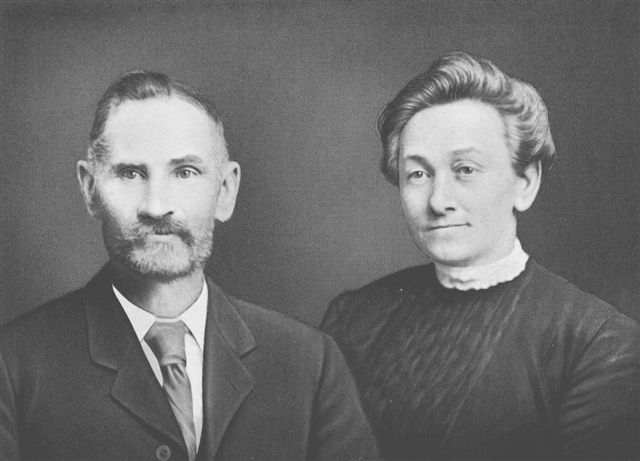 (Mr. and Mrs. Julius Hudemann)
Gaston, Joseph. "The Centennial History of Oregon, 1811 - 1912." Vol. 2. Chicago, S. J. Clarke Publishing Co., 1912. p. 178.
JULIUS HUDEMANN
who now lives retired in Pendleton, was born in Germany, November 30, 1848. His parents were Ferdinand and Louisa (Schafer) Hudemann, both of whom were natives of Germany and spent their entire lives in that country. In their family were seven children, of whom only two are now living: Julius, of this review; and Charles, of California.
Julius Hudemann was reared in Germany and there received a common-school education rounding out the same with a course that corresponds to a high-school and agricultural college education in this country. Leaving school he served in the army there and remained in his native land until after the death of his parents. In 1873 he came to America, settling in McLean county, Illinois, where he resided until 1884, at which date he came to Umatilla county, Oregon, and settled on a tract of railroad land. Later he took up a homestead and resided on the same until 1906, when he moved to Pendleton. He now owns seventeen hundred acres of land and has a beautiful residence in Pendleton.
In 1878 Mr. Hudemann wedded Miss Margaret Eggers, who was a native of Germany and when only seven years of age came to America with her parents, Henry and Catherine Eggers, both of whom were natives of Germany but are now living in California. In their family were eight children. Mr. and Mrs. Hudemann have become the parents of eleven children: Ferdinand H., who operates the old homestead; Marie E.. who is the wife of Walter F. Krebs. of Washington; Dora E., who is the wife of George Schrader, of Idaho; Ellen W., who is now Mrs. Carl Ford, of Spokane, Washington; Bertha K., the wife of O. D. Isaminger, of Adams, Umatilla county, Oregon; Cora M., the wife of John Maschmann, of Pendleton; Clara J., now Mrs. Henry J. Rosenberg, also of Pendleton; Carl E., who is now a student at the Pendleton Business College; Martha M., who is attending high school; Freda M.; and Louise, who died at the age of eleven years.
Mr. Hudemann casts his vote with the democratic party, and he has given much attention to the interests of education, having now served as a member of the school board for over eighteen years. Both he and his wife are earnest workers in the Lutheran church. He is a worthy representative of the land of his birth and has contributed largely to the development and prosperity of the community in which he resides. He has a wide and favorable acquaintance in Umatilla county and is justly accounted as a man who has the strength of character and stability of purpose to carry to successful completion whatever he undertakes.
Transcribers additional notes:
This same biography appears in the following book
"Oregon Pictorial and Biographical"
by Joseph Gaston
S. J. Clarke Publishing Co.; Chicago; 1912
Page 207
****************
Submitted to the Oregon Bios. Project in June 2009 by Diana Smith. Submitter has no additional information about the person(s) or family mentioned above.