James P. Atwood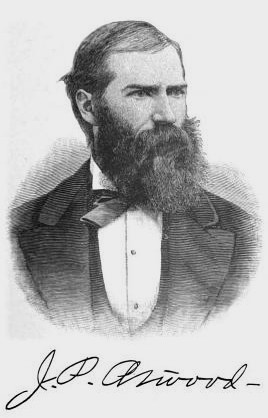 Hawthorne, Julian. "The Story of Oregon." Vol. 1. New York: American Historical Publishing Co., 1892. p. 402.
JAMES P. ATWOOD
Baker City, Ore., possesses, among other advantages, the privilege of having within its limits one of the most successful physicians of the State in the person of Dr. Atwood. This gentleman has had extensive experience in his profession, and is a careful, conscientious, and intelligent practitioner. To the science of pathology he has devoted his life, and his primary object is to restore his patients to health. In this most laudable ambition he has had great success. Dr. Atwood is a Wisconsin man by birth. He was educated in Oregon at Sublimity and Corvallis, and took his medical degree at Willamette University, Salem, and at Columbia College, N. Y. Mr. A. F. Atwood, his father, was one of the pioneers of 1853, and lived for many years at Corvallis, finally removing to Walla Walla County, Wash. Terr., and dying there in 1869. After a brief experience at La Grande the doctor removed to Baker City in 1871, and has since held a prominent and honorable place as one of the most distinguished physicians in the locality. Twenty-two years ago Baker City was little more than a village. It had seven hundred inhabitants, most of whom were devoted to mining interests. Great changes have taken place since then, and the city is now an important business centre. Dr. Atwood has a large practice, and his popularity and usefulness are constantly growing. In 1882 Dr. Atwood was married to Miss Florence Thompson, of San Francisco, the adopted daughter of Mr. John Thompson of that city. Mrs. Atwood is a native of Philadelphia, but was taken to California by her relatives while quite young. She met the doctor at Baker City in 1880. One beautiful child, Purvine, has graced their marriage. They lead a happy, domestic life, the doctor's professional duties, which are numerous and responsible, being alternated by the sacred pleasures which can be experienced only at home. In' all matters connected with the prosperity and improvement of Baker City Dr. Atwood has always taken a deep interest. He is particularly concerned in the health of the community and in the education of the young. In his professional capacity he has done much to promote the former, while as a stanch advocate of complete school accommodation for all the children in the city, he has established his right to be regarded as a friend and supporter of the public schools.
*******************
Submitted to the Oregon Bios. Project in August 2011 by Diana Smith. Submitter has no additional information about the person(s) or family mentioned above.