Kelly Fields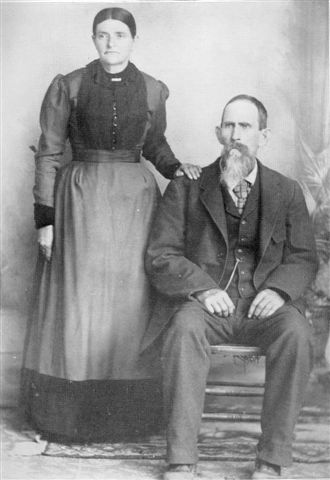 (Mr. and Mrs. Kelly Fields)
Gaston, Joseph. "The Centennial History of Oregon, 1811 - 1912." Vol. 3. Chicago, S. J. Clarke Publishing Co., 1912. p. 220.
KELLY FIELDS
who owns two acres near Provolt, is one of the surviving veterans of the Civil war. He was born in Indiana, August 4, 1840, the son of Jackson and Phoebe (Collins) Fields, both of whom were natives of Tennessee. A member of a family of eight children, Kelly Fields was given a good common-school education in the state of his nativity and in 1875 joined a company of emigrants bound for California. The train with which he journeyed comprised sixty wagons which were drawn by horse teams, and the trip consumed six months and four days. He remained in California for two years and then came to Jackson county, Oregon, where he has since resided. On December 3, 1861, Mr. Fields enlisted in the Federal army for service during the Civil war, becoming a member of the Fifth Regiment of Kansas, which was later transferred to the command of General Steele. The regiment participated in many battles and skirmishes although a great portion of the time was spent in scout duty. The first battle in which Mr. Fields took part was at Helena, Arkansas, and he later participated in the engagements at Little Rock and Pine Bluff, Arkansas. He is by trade a carpenter and has followed that occupation during the greater part of his life, although after settling in Oregon he ran a sawmill for nine years. He took up a homestead of forty acres, upon which he lived for a time, later disposing of it and purchasing a ranch of eighty-six acres which he has sold to his son Charles.
In 1865 Mr. Fields was married to Miss Mary Waters and to them were born eight children, all of whom are living except Minnie, the second in order of birth, who passed away October 18, 1909. Those who survive are Orley, Sarah, William, Sherman, Charles, Nettie and George. Mr. Fields is spending his declining years in his pleasant home near Provolt with his son Charles. In consideration of his services in the Federal cause Mr. Fields draws a pension. He and his family are well known in the community and are held in high esteem.
****************
Submitted to the Oregon Bios. Project in June 2009 by Diana Smith. Submitter has no additional information about the person(s) or family mentioned above.