Lemuel Hobson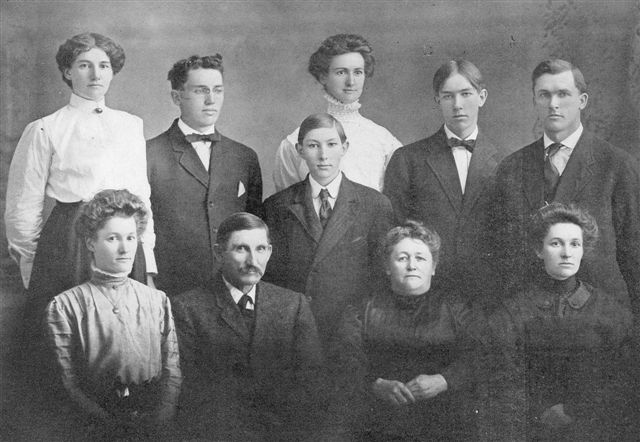 (Lemuel Hobson and Family)
Gaston, Joseph. "The Centennial History of Oregon, 1811 - 1912." Vol. 2. Chicago, S. J. Clarke Publishing Co., 1912. p. 894.
LEMUEL HOBSON
Among the native residents of Marion county who still remain within its borders is Lemuel Hobson, who is the owner of a dairy farm two miles south of Salem, on the Turner road. He was born May 12, 1850, the son of Hadley and Emily Amanda (Speinhaur) Hobson, both of whom were natives of North Carolina. The father went to Missouri when a young man and was married there. In 1849 he crossed the plains and was camping near the gold fields in California at the time of the discovery of gold, whereupon he engaged in mining but after a short time removed to Portland, Oregon, and later settled on a donation land claim in Marion county, near Stayton. Leaving his family on the claim, he returned to California in 1850, engaged in mining and was very successful. He then returned to his home in Oregon, where he resided until his death, in August, 1887. He was a Quaker in religious belief. The mother died in California in 1897, at the advanced age of eighty years. She was of German descent. In their family were eight children: Mary A., who is the wife of John Barker, of Echo, Oregon; W. H., of Stayton, who has been state senator for two terms; F. M., deceased; Lemuel, of this review; Amanda, who is the wife of Dr. John Parker, of Salinas, California; Amelia, deceased, and Emily, who resides near San Francisco, twins; and Hadley, of Linn county, Oregon.
Lemuel Hobson was educated in the common schools and remained at home until he was twenty-five years of age. He then settled on a part of his father's donation land claim, where he resided for twenty years, after which he bought a farm east of Stayton and in 1903 came to his present location, where he owns fifty-six acres of land. He keeps a high grade of cows and specializes in the dairy business. He also holds title to twenty-six acres of land near Stayton.
In 1886 Mr. Hobson was united in marriage to Miss Sarah Parker, who was born in Oregon in 1857. Mrs. Hobson is a daughter of James S. and Caroline (Evans) Parker, the former a native of Vermont and the latter of Indiana. Both came to Oregon in 1852 and there they were married in December of that year, the father taking up a donation claim in Marion county in the vicinity of Sublimity. To them were born six children, of whom four are now living: Mrs. Hobson; Henry J., of Marion county; Mrs. Esther Magg, of Salem; J. D. Parker, of Mehama; and two who passed away in infancy. Mr. and Mrs. Hobson have become the parents of eight children: F. M., who resides at Portland, Oregon, and is a railway mail clerk; Rhoda, of Moscow, Idaho, who is secretary to the superintendent of the State Experimental Station; Jessie, who is the wife of W. D. Pue, of Salem; Olga and Lottie, both of Salem; Lewis, who is a medical student at Salem; and Henry and Guy, at home.
Mr. Hobson gives his political allegiance to the republican party, and both he and his wife are members of the Christian church. Fraternally he is identified with the Independent Order of Odd Fellows at Stayton and both he and his wife belong to the order of Rebekahs and to the Artisans at Salem. Mr. Hobson is interested in all that pertains to the general advancement and he cooperates in many movements for the good of the community, being at all times public-spirited and progressive. He is a conscientious business man who manages the work of his farm in a most successful manner.
****************
Submitted to the Oregon Bios. Project in June 2008 by Diana Smith. Submitter has no additional information about the person(s) or family mentioned above.