Osmon Royal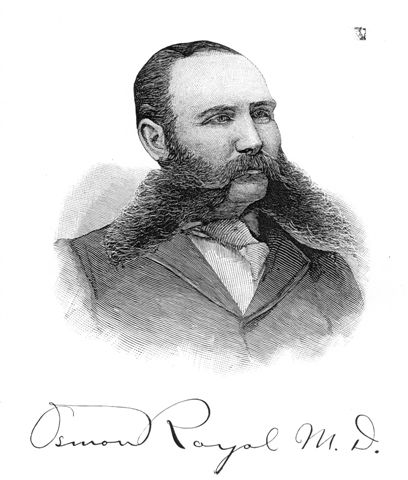 Hawthorne, Julian. "The Story of Oregon." Vol. 2. New York: American Historical Publishing Co., 1892. p. 421.
OSMON ROYAL
although a native of Illinois, has been an Oregonian by residence since childhood, he acquired his earlier education here, and worked his way to a favorable position in the medical ranks of Oregon practitioners. Dr. Royal was born near Bloomington, Ill., January 3d,1856. At the age of eight he emigrated with, his parents to,Oregon, and settled, near Portland. He attended the Willamette University, and took a later course at the Ohio Wesleyan University, when upon completing his studies he went to Massachusetts and took a thorough course in the Boston University; here the exceptional educational advantages and the influence of his surroundings developed within him a self-reliant and strong character, and gave the true direction to his thoughts and actions. One year before his graduation he acted as resident surgeon of the Concord Street Homoeopathic Dispensary, and later acted in the same capacity at the Consumptives Home, or Grove Hall Hospital. Dr. Royal remained in Boston a short time after graduating, and returned in 1885 to Portland, where he continued the practice of his profession. His time and energies are entirely taken up with the demands of his profession; he holds several important positions in the medical world, among them being chief of the staff of Homeopathic, and Visiting Physicians for the Portland Hospital. He is now organizing the Mount Tabor Home, a sanitarium for nervous diseases; in this undertaking he manifests a good will for the afflicted, which illustrates the benevolence of his nature. His success throughout life is due to the earnest devotion which he gives to his work, augmented by the careful preliminary training received in his earlier days. Personally Dr. Royal is a man of kindly feeling and of a strongly sympathetic nature outside of his profession. He is a great reader, and despite the exactions of a large practice he has managed to keep abreast with the progress of the world in the multifarious branches of knowledge. He was married in 1888.
*******************
Submitted to the Oregon Bios. Project in July 2007 by Diana Smith. Submitter has no additional information about the person(s) or family mentioned above.