Robert W. Hanning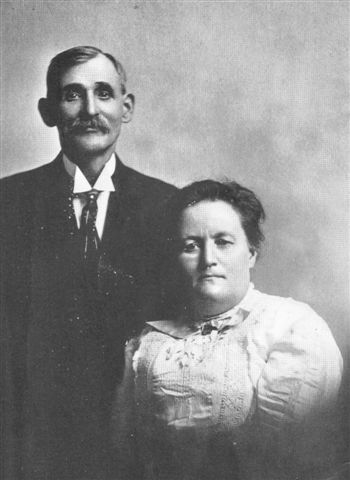 (Mr. and Mrs. Robert W. Hanning)
Gaston, Joseph. "The Centennial History of Oregon, 1811 - 1912." Vol. 2. Chicago, S. J. Clarke Publishing Co., 1912. p. 758.
ROBERT W. HANNING
A finely cultivated ranch of one hundred and eighty-five acres located a mile and a half northwest of Yamhill does credit to the agricultural skill of Robert W. Hanning, who has devoted his energies to its operation for about twenty years. He was born in Whithorn, Wigtonshire, Scotland, October 16, 1853, and is a son of Robert W. and Elizabeth (McCullough) Hanning. The father was born in Aberdeenshire, Scotland, in 1816 and there he resided until 1871, when he emigrated to the United States, locating in the state of New York. In the old country he always engaged in manufacturing and farming and on his arrival in America he took up agricultural pursuits. He bought one hundred and eighty-three acres of land in the vicinity of Albion, Orleans county, New York, and engaged in general farming during the remainder of his active life. His death occurred in 1908 at the venerable age of eighty-two years. The mother of our subject had passed away in Scotland many years before, her demise occurring in 1866. In the family are seven living children, as follows: Robert W., our subject; Agnes, the wife of William Cousins, of Sweethome, Richmond county, Kansas, by whom she has had four children; and William and John, who are engaged in the real-estate and lumber business in Portland; Lizzie, who married H. Wilson, of New York, and is the mother of two children; Belle, the wife of James Shepherd, of New York, and the mother of one child; and Alexander, of New York state, who is married and has two children.
Robert W. Hanning was a youth of eighteen when he emigrated to the United States with his father, whom he assisted in the operation of the home farm until he attained his majority. For five years thereafter he worked in the lumber regions of Michigan and then went to South Dakota, where he spent two years in the mines. His next employment was that of stage driver between Cheyenne and the Black Hills, which occupation he followed for one year. He subsequently spent six months as a guide in the scenic portions of Colorado and at the end of that time came to Yamhill, where he has since resided. Mr. Hanning owns one of the best improved and most highly cultivated ranches in his section of the county and is successfully engaged in diversified farming. He has a most attractive place, equipped with all modern conveniences and comforts, thus providing not only a beautiful home but an income that more than meets the needs of the family. The buildings on his farm are substantially constructed and in good repair, his residence being surrounded by a nice lawn, while one of the most interesting features of his place is the orchard wherein can be found every known variety of fruit that can be grown in this region. Practical ideas intelligently directed toward a definite purpose have crowned Mr. Hanning's efforts with success and he is now numbered among the prosperous ranchmen of the county.
Mr. Hanning was first married to Miss Sarah E. Davis, a daughter of T. C. Davis, and she died in 1887, leaving one son, Thomas L., now a resident of Portland. At McMinnville, this state, in October, 1893, was celebrated the marriage of Mr. Hanning and Miss Kate Leach, and they began their domestic life on the ranch where they are now residing. Mrs. Harming is a daughter of William and Susan (Colbin) Leach, both natives of Kentucky, where the father's birth occurred in 1832. They .were married in the Blue Grass state, Mrs. Leach being nineteen years of age at that time, but subsequently they removed to Iowa, where they resided for twenty years. In 1878 they came to Washington county, Oregon, locating on a ranch of one hundred and sixty acres that .the father bought in the vicinity of Forest Grove, and there they reared their children. To Mr. and Mrs. Hanning have been born six children: Ray R., who was born April 12, 1895, and is at home with his parents; Ivy A., whose birth occurred September 28, 1896, and who is now away at school; Norma G., born April 27, 1898; Nida Gladys, born on the 16th of April, 1900; Violet Helene, born on the 7th of February, 1902; and Alladyne L., born on the 9th of July, 1904.
The family affiliate with the Presbyterian church and Mr. Hanning gives his political allegiance to the republican party, but he does not participate in governmental affairs, further than to cast a ballot on election day. He is one of the progressive and enterprising citizens of Yamhill county and the owner of what promises to be one of the most valuable properties. On his ranch has been erected not only the first oil derrick in the Willamette valley but the only one in this section of the state, and he has every reason to believe that this is going to yield him large returns. He has always led a rather quiet life, concentrating his energies upon the development of his personal interests, but is held in high regard in his community, where his sound principles and unquestionable integrity in all business transactions have won him the respect of all who have had dealings with him.
****************
Submitted to the Oregon Bios. Project in August 2007 by Diana Smith. Submitter has no additional information about the person(s) or family mentioned above.