Simon Benson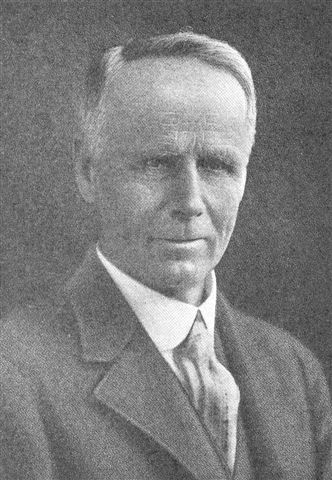 Lockley, Fred. "History of the Columbia River Valley, From The Dalles to the Sea." Vol. 2. S. J. Clarke Publishing Co., 1928. p. 88.
SIMON BENSON
No history of the Columbia River Valley would be complete without a record of the life of Simon Benson, whom Governor Withycombe designated as "Oregon's first citizen" in recognition of his public benefactions and service in the promotion and organization of the state highway system. The city of Portland contains many evidences of his generosity and public-spirit, and as a lumberman, hotel builder and capitalist he has furthered the development of this region to a notable extent. Starting out in life empty-handed, he is accorded the respect which the world ever yields to the self-made man.
Mr. Benson was born October 7, 1852, in Gulbarns-dalen, in the central part of Norway, a son of Berger Bergerson, who was the owner of a small farm containing one and one-half acres. There were seven children in the family, four sons and three daughters, who assisted their mother in cultivating the farm while the father was employed as a carpenter in the neighborhood. When a child of nine Simon began to provide for his own livelihood, becoming a sheep herder, and later milked cows for his board, lodging and clothing. His oldest brother, John, left home in 1863, when a young man of eighteen, and sought the opportunities of the new world. He obtained work in the pine woods of Wisconsin and within five years bad saved enough money to send for the rest of the family, who came to the United States in a sailing vessel which was five weeks in crossing the Atlantic. From New York city they journeyed to Black River, Wisconsin, and all secured employment. They simplified the family name by changing it from Bergerson to Benson.
In 1868, when sixteen years of age, Simon Benson became a farm laborer in. Wisconsin. Although he worked sixteen hours a day, he considered himself fortunate, as he received three times as much as a farm hand was paid in Norway. At the end of three months he had learned to speak English. His savings were used to repay his brother who had furnished the funds for his trip to the United States. In the fall of 1868 Simon Benson entered the employ of another farmer and attended school during the winter, paying for his board by doing the chores. Mr. Benson was thus employed until he reached the age of twenty-three years and in the fall of 1875 married Miss Esther Searle. At that time he opened a store at Lynxville, Wisconsin, and soon established a good trade, but four years later fire destroyed the building and his stock of merchandise, on which there was little insurance. Undismayed by this financial loss, he decided to start life anew in the Pacific northwest and in 1879 came to Portland, being accompanied by his wife and their son Amos, who was then an infant. Leaving his family in the Overland Hotel on Third street, Mr. Benson went by boat to St. Helens and during the trip had the good fortune to meet John Beavis, a lumberman, from whom he obtained work in a logging camp on Tide creek. His employer soon recognized his worth, raising his salary from forty to sixty dollars per month, and Mr. Benson then established his family at the camp. In the spring of 1880 he invested his savings in land, purchasing a quarter section by making small payments from time to time. On this tract he built a small cabin and cleared a small place for a garden, making these improvements after the completion of his day's work as a logger.
The homestead contained about six million feet of timber and Mr. Benson decided that he could make more money by working for himself. From Samuel Miles, a pioneer cattleman of St. Helens, he obtained six wild steers on credit and within three weeks had them thoroughly trained for work. In the winter he put sawlogs in the river and sold them to the Northern Pacific Lumber Company. With this money he paid the salary of the man whom he had hired and also made payments on the oxen and the land. He continued his logging activities and at the end of three years had discharged all of his indebtedness, also depositing money in a bank.
Owing to his wife's illness Mr. Benson was obliged to seek a drier climate and in 1883 sold his timber, logging outfit and oxen for six thousand dollars. Going to Colfax, Washington, he obtained a position as foreman in a sawmill. His wife's health steadily declined and in 1890 their union was severed by her death. She was a daughter of Joseph Utter and Jane Dalton Searle, of Lynxville, and became the mother of three children: Amos, Alice and Caroline. After paying the expenses incurred during his wife's illness Mr. Benson had practically exhausted his money and returned to St. Helens with no assets save courage, intelligence and energy. Obtaining four yoke of oxen from Samuel Miles on time, he reentered the lumber industry and contracted to buy timber across the river from Kalama at fifty cents a thousand stumpage. He prospered in the venture and later became a partner of Ordway & Weidler, to whom he had sold his logs. They were the owners of four thousand acres of timber near Cathlamet and decided to build a logging railroad there, constructing a mile of track. The partners were successful in the undertaking and contracted to buy a large body of fine timber at Oak Point at fifty cents a thousand. About that time the price of logs declined and Mr. Ordway withdrew from the firm, selling his holdings to Mr. Benson, who purchased the interest of Mr. Weidler about a year later.
Mr. Benson was then employing about ninety men in his camp and used oxen to get out the logs. A deep thinker, he decided to adopt a more effective method and to use machinery. His camp was the first in the Pacific northwest to successfully conduct all of its logging operations by means of donkey engines, which had been used by other lumbermen and discarded, proving an unprofitable experiment. Mr. Benson greatly reduced the cost of production by this change and gradually increased his timber holdings, purchasing land from homesteaders, to whom he paid what was considered a fabulous price in those days. At the same time he extended his logging railroad and soon built up an export demand for special lengths and sizes. His aim was to produce lumber more cheaply and his business was thoroughly systematized. After long and deep study he finally solved a problem which had baffled the logging operators of Oregon for many years and was the first lumberman to perfect the ocean rafting of logs. Mr. Benson constructed a cigar-shaped raft of sawlogs containing six million feet of lumber, which he transported with complete success to San Diego, thereby saving two dollars a thousand on freight. Later he sold his sawmill in that city to Frank Lynch, who also purchased one of his logging outfits and the land that went with it, and a company of Duluth bankers acquired twenty-five thousand acres of Mr. Benson's timber holdings, transactions involving millions of dollars. Investing in Portland, he erected the Benson Hotel, on which he lost money at first, but after taking over the management himself soon instituted new methods, resulting in improved service, and placed the business on a paying basis. Under his wise direction this became one of Portland's assets and the high standard which he established is still maintained although the hotel has passed into other hands. Another fine hostelry which Mr. Benson constructed is the Columbia Gorge Hotel, which is patronized by tourists from many parts of the country.
Mr. Benson represents that class of men to whom personal gain is but one aim in many, secondary in importance to public growth and development, and lower in value than many other elements which go to make up the sum total of human existence. His first public work was the good roads cause. In 1915, in company with a party of newspaper men from Portland, he made a tour of Oregon to advocate paving and addressed small meetings in towns and villages. This was the practical begin-fling of a change in public sentiment that made Oregon's forty million dollar paving program possible. He was the first chairman of the Oregon highway commission and to him is due the perfect condition of the Columbia River highway. Mr. Benson planned and supervised its construction free of cost to the state, arid at times replenished the funds from his own purse. When Hood River bonded itself for seventy-five thousand dollars toward the highway fund and could not sell the bonds, he came to the rescue and purchased the entire issue. During these years he was efficiently aided by his son Amos, a civil engineer who was also assistant roadmaster. The completion of the paving of the Columbia River highway from Portland to Hood River was marked by a large celebration in the latter city and Mr. Benson was the guest of honor. At the time of his resignation from the board of state highway commissioners the following comment was made by the editor of the Morning Oregonian:
"Simon Benson has been a great factor -- indeed the great factor -- in systematic and permanent road building for Oregon. He has not been a mere enthusiast, whose service ends with a rhetorical picture of his dreams; he has been a promoter, an educator, an engineer, a constructor and a financier all in one. When he and others with him brought the people of Oregon to an understanding of his plans, and to an agreement to support them, he undertook to carry them out; and astonishing progress has been made. He has been impatient of delays or obstruction and intolerant of opposition, but withal he has had a great conception of what a road should be and a sound judgment as to where it should be built; and he has nearly always been proved to be right. Sectional interests, local influences, political considerations have never moved Simon Benson. The state as a whole is the beneficiary of his sturdy honesty, his large vision, his trained experience, his tested philanthropy, his proven willingness to serve."
Knowing the evils wrought by the liquor traffic, Mr. Benson became an ardent advocate of the cause of prohibition and decided that in a city famous for the purity and excellence of its water workmen should not have to rely upon saloons to quench their thirst, so he donated to Portland twenty bronze drinking fountains. When these had been installed he sent out a trusted agent to discover the effect of the fountains upon the business of the liquor dealers, learning that in many saloons the sales had decreased from twenty-five to forty per cent. Scores of other cities followed Portland's example and established public drinking fountains, thereby promoting the cause of temperance. Mr. Benson's humanitarianism and public spirit also prompted his donation to the city of a tract of seven hundred and sixty-eight acres, located on the highway and known as Benson Park. His greatest gift to Portland was the Benson Polytechnic school, toward the building of which he contributed one hundred thousand dollars, and a like amount was voted by the school board. About six hundred thousand dollars was expended upon this imposing structure, which is two stories in height and covers seven and one-half acres of ground. The main building faces on East Twelfth street and the several units extend from East Twelfth to East Thirteenth, and from East Irving to East Glisan streets. The building is of brick construction with terra cotta trimmings and one of its chief features is a fine auditorium with a seating capacity of two thousand. But of much greater interest to the public than the physical aspects of the building is the kind of instruction given. When it is remembered that three-fourths of the world's work is industrial, the need of good training schools of this sort at once becomes apparent. The thought in mind in planning the courses for the polytechnic school has been not only to train workers, but to prepare young people for leadership in large industrial ventures. The school rates very high and has been of distinct benefit to the city and the state at large, constituting a most valuable element in the educational system of Portland and standing as a monument to the high ideals of Mr. Benson.
Mr. Benson's interest ever centered in his home and the record of his family has reflected credit upon his name. His son, Amos Benson, became his active associate in business. He learned the logging industry at Cathlamet, Washington, and at Oak Point, and when the camps were moved near Clatskanie, Oregon, he became manager with full control over them and also over the mill which was built there a few years later. He was an apt pupil, readily mastering every phase of the business, and he modernized and perfected in every way the methods of handling lumber and doubled the output of the plant. He perfected a very efficient organization, controlling the operations of the mills and camps, while his father remained the executive head of the business, with offices in Portland. A few years ago Amos Benson removed to Beverly Hills, California, where he has gained, distinction as a man of finance, displaying keen mentality and sound judgment in investments. He was associated with his father in the work of improving the state highways of Oregon and gave to the city of Portland for park purposes an eight-acre tract, situated on a bluff northeast of the Portland Flouring Mills and overlooking the Greeley street extension. His first wife, Georgia Bozeley, died at the birth of their daughter Georgia in 1901. The latter became the wife of Paul Patterson, an attorney of Hillsboro, and they have a daughter, Georgia Searle, born April 17, 1928. By a second marriage Amos Benson has four daughters and one son: Esther, Margaret, Virginia, Mary and Arthur. He married Bertha Van Dermeer on the 4th of April, 1924, and they have a son, Amos, Jr.
Alice the elder daughter of Simon Benson, was graduated from the University of Oregon in 1905. She also spent a year as a student in Stanford University of California and six months at the University of Berlin and she has been very active as an executive in university and civic affairs and also in golf circles. In August, 1920, she became the wife of Patrick Herbert Allen, an Englishman, who was drowned in 1923 when attending the American Legion convention at Astoria, Oregon. Mrs. Allen has two children by a former marriage: Benson Beach Allen, born January 26, 1911; and Esther Alice Beach Allen, born July 14, 1913. Caroline, the younger daughter of Simon Benson, attended the University of Oregon, was graduated from Stanford University in 1908 and is a member of the Gamma Phi Beta. She married Sigfrid Unander, formerly of Portland, Oregon, and has one son, Sigfrid, now attending school in Santa Barbara, California. Gilbert, the second son of Simon Benson, was born at Chehalis, Washington, May 5, 1896, and was graduated with high honors from Leland Stanford University, which granted him the Master's degree in June, 1925. He was a member of the Phi Beta Kappa fraternity and was a brilliant student. At the time of his death, which occurred suddenly at Palo Alto, April 15, 1928, he was a graduate instructor in botany and his work for a textbook of Pacific coast flowers for his Ph. D. degree was practically compiled. Chester, the third son of Simon Benson, was born in Portland, May 7, 1902, attended the Washington high school and Reed College, both of Portland, and then entered the University of Southern California. He was married November 10, 1927, to Dorothy Logan, a daughter of John Logan, an attorney, and is residing in Portland.
Mr. Benson's second wife was Miss Pamelia Loomis, of Chehalis, Washington, and two sons, Gilbert and Chester, were born to them. In 1920 Mr. Benson was married in Hood River to Mrs. Harriet King, one of Oregon's native daughters and a. woman of charm. She was instrumental in organizing activities in the Hood River valley and also stimulated interest in behalf of highway improvements. For a number of years Mr. and Mrs. Benson made their home at Long Beach, California, during the winter months and they are now residents of Beverly Hills, that state.
In accordance with the plan of the directors of the Pan-American Exposition to set aside one day to honor a man from each state of the Union, August 17, 1915, was chosen as Simon Benson day. The selection of Mr. Benson was a recognition of his long and public-spirited life in Oregon, of his philanthropy and all that makes for the State's welfare and of his unselfish devotion to the work of making a better commonwealth. He was chosen as the personification of ideal citizenship. On May 19, 1924k the Portland Chamber of Commerce gave a dinner in honor of Mr. Benson as an acknowledgment of the many public services which he has rendered to the state of Oregon. The following tribute to his worth was paid by ex-Governor Olcott, who said:
"Oregon owes Simon Benson a heavy debt of gratitude for the invaluable services which he has rendered. He is one of our greatest and best citizens and, as Oregonians know, his services to the state have by no means been confined to what he has done in the way of highway development. But his efforts along that line alone will make him forever remembered by the people of the state. "He has been in a large measure one of the foremost pioneers in the movement to pull Oregon out of the mud. His own money, his time, his services, all have been at the command of the people of the state in this enormous undertaking, and he has given of them unstintedly. Mr. Benson has reared for himself in the hearts of the people of Oregon an enduring monument, and every man, woman and child in the state should have a just appreciation of his splendid services so freely given."
*******************
Submitted to the Oregon Bios. Project in September 2006 by Jeffrey L. Elmer. Submitter has no additional information about the person(s) or family mentioned above.