Sivert E. Aasen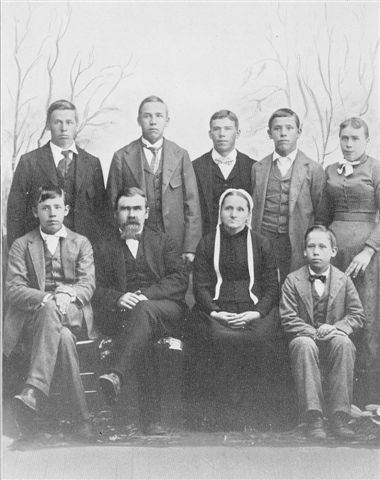 ("S. E. Aasen and family")
Gaston, Joseph. "The Centennial History of Oregon, 1811 - 1912." Vol. 4. Chicago, S. J. Clarke Publishing Co., 1912. p. 710.
SIVERT E. AASEN
recognized as an expert agriculturist of Coos county and as a man whose wise management of his farm has contributed to the expansion of the district, was born, in Norway, May 15, 1846. His parents lived and died in their native country and had ten children, all of whom remained at home with the exception of our subject. Sivert Aasen crossed the Atlantic to America in 1871, settled in San Francisco and for one year followed the sea, making that city his headquarters. He had been a sailor for about fifteen years in his native country and was familiar with the details of navigation. His residence in Coos county dates from 1872 in which year he, came north to Oregon and bought land on Hall creek, six miles below Myrtle Point. His original purchase comprised one hundred and sixty acres and upon this property he has since resided. He began its cultivation immediately and has at the present time one of the highly improved and cultivated tracts of land in the district. At one time he purchased forty acres which he added to his homestead, but he sold eighty acres to his son and now has a well improved and prosperous farm of one hundred and twenty acres, all of which is under cultivation. Mr. Aasen follows general farming and his years of experience have won him success.
In 1873 he was united in marriage to Miss Marie L. Bagge, who was born in Norway December 28, 1843, and came to America with her brother in 1873. She married our subject in San Francisco, California, and with him came to Coos county. Mrs. Aasen's parents both died in Norway and her brother and two sisters are living in that country. Mr. and Mrs. Aasen have seven children: Mary Magdaline, born in 1874, who is the wife of Henry K. Fredenberg, of Hall creek, Oregon, by whom she has five children, Rosa A., Henry L., Gussie M., Edward and Hilda. Edwin, born in 1878, who is foreman of a logging camp; Lewis, born March 11, 1880, who married Miss Alice Everden, of Rock Creek, Oregon, and who is farming on a part of his father's farm; John L., whose birth occurred on the 29th of November, 1881, who married Miss Amy Kelly, of Coquille, Oregon and is in partnership with his brother Edwin in the lumber business; Sigwell A. and Magnor T., twins, the former a resident of California and the latter of Coos county, where he is living on the homestead claim with his wife who was in her maidenhood Miss Charlotte Hill, and his two children, Elda M. and Alton; and Olaf H., born October 6, 1884, who is aiding his father in the operation of the home farm. All the children born to Mr. and Mrs. Aasen received their education in the public schools of Coos county and with their parents they attend the United Brethren church.
Sivert E. Aasen is an enterprising and intelligent agriculturist. The success which he enjoys is the natural result of well directed labor along progressive lines, aided by personal experience in the details of his occupation and supplemented by a business sagacity and integrity of a high order.
****************
Submitted to the Oregon Bios. Project in January 2008 by Diana Smith. Submitter has no additional information about the person(s) or family mentioned above.