William Abernethy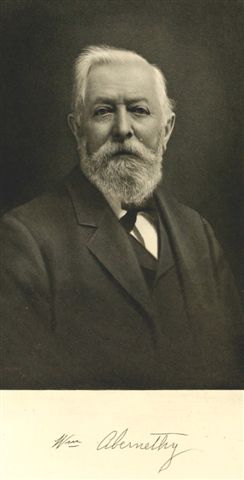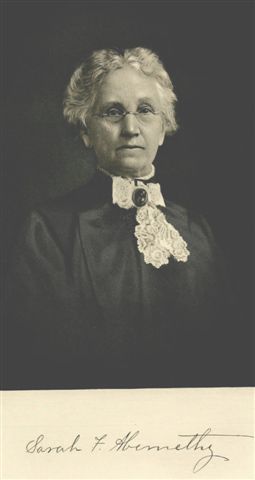 Gaston, Joseph. "The Centennial History of Oregon, 1811 - 1912." Vol. 4. Chicago, S. J. Clarke Publishing Co., 1912. p. 72.
William Abernethy
is one of the venerable citizens of Forest Grove, having attained the age of eighty years. Much of this period has been spent in Oregon and in the improvement of his business opportunities here he has won success that now enables him to live retired. His birth occurred in New York city, September 16, 1831. His father, George Abernethy, was also a native of the American metropolis, born October 7, 1807, and there he acquired his education. In early manhood he wedded Anne Pope, who was bom in Plymouth, England, September 10, 1811. Their wedding was celebrated in New York, January 21, 1830, and the remains of both now rest in Riverview cemetery of Portland, Oregon, the father having died in that city May 2,1877. The mother, however, passed away in New York city, April 30, 1884, but her remains were brought back to this state for interment. In the family were two children, the younger being Annie Abernethy, who became the wife of General H. C. Hodges, of the United States army who is now retired and lives in Buffalo, New York. His wife passed away in Washington, D. C., April 31, 1911. General Hodges is a graduate of the West Point Military Academy and was stationed first in the Indian Territory and later in Vancouver, Washington, where he served as adjutant of the Fourth Infantry. Subsequently he was transferred to California and afterward to Philadelphia.
Few residents of Oregon have resided within the borders of this state for a longer period than William Abernethy, who came to the northwest in 1840 when but nine years of age, landing at Vancouver, Washington, on the 1st of June, 1840, after having made the long voyage around Cape Horn on the ship Lausanne. His father came to the Pacific coast as secular agent of Methodist missions and was stationed first at Salem and afterward at Oregon City, assisting in building the Methodist church at the latter place. He also erected the first brick store in Oregon City, it being the second brick building in the entire state. He was very prominent as a factor in the early progress and upbuilding of this section of the country and was chosen the first provisional governor of Oregon Territory for two terms of four years. That he filled the office most capably is indicated by the fact that he was reelected while on a trip to the Sandwich islands. Following the expiration of his second term and his retirement from office, he owned and operated the Linn City (Oregon) Works, a flourmill and sawmill, and when that business was burned out he turned his attention to the commission business in Portland, where he resided up to the time of his death, which occurred when he was sixty-six years of age.
Brought to the northwest in his early boyhood. William Abernethy largely acquired his education in Willamette University. Later he went to California, in 1849, attracted by the discovery of gold in that state. He next made his way to New York city, where he spent three years as a student in the James McEIlicott School. He next became a student in the Phillips Academy in Andover, Massachusetts in which he spent three years and later matriculated for a three years' course in the scientific department of Yale University, completing his studies within the classical walls of that old institution in 1858. In the same year he returned to the Pacific coast, making his way to Oregon City, after which he began farming at Green Point. He next went to Portland, where he engaged in assaying for George Collier Bobbins, of that city. He subsequently spent a year at The Dalles and another year at Boise, after which he returned to Portland, where he established a packing business and bag factory. Here he suffered losses through fire, the factory being totally destroyed, after which he removed to Abernethy Heights, near Oswego, Oregon, where he lived for about a quarter of a century, and then sold his property there, comprising one hundred and sixty and a third acres, to a syndicate. This is now one of the most beautiful residence districts in the vicinity of Portland. For a year thereafter he resided in Rose city, and in August, 1891, removed to Coos county, where he continued until 1904. In that year he came to Forest Grove, where he still resides, resting now in the enjoyment of the fruits of his former toil and the handsome competence which he has gained through his investments.
On the 25th of June, 1863, Mr. Abernethy was married to Miss Sarah F. Gray, who was born November 25,1843, at the mission near Salem, Oregon. Her father, William H. Gray, was born in New York state in December, 1810, and came to Oregon in 1836, with Dr. Marcus Whitman, engaging in missionary work. In early life he had been apprenticed to the cabinet makers' trade and later had studied medicine for three years, but ill health forced him to abandon his studies and go to the mountains. It was at this time that he associated himself with the American Board of Missions and this led to his removal to the Pacific coast. When he severed his connection with the missions he went to Clatsop Plains where he rendered medical aid to those in need of such service. At length he went east to buy sheep for himself and farmers in that locality. He brought the sheep across the plains to Portland, where he put them on flat boats to be taken to their destination, but a storm came up and wrecked the boats, so that all of the sheep were drowned, Mr. Gray thus losing everything that he had for he invested his entire fortune in the sheep. He at once sought employment in other ways, accepting anything that he could find to do in order that he might properly care for his family and retrieve his fortune. Going to Astoria he built a house and kept boarders. Later he removed to Fort Hope, on the Frazier river in British Columbia and built a sloop, after which he engaged in freighting between Fort Hope and Fort Yale, remaining at that point for two years, or in 1859 and 1860. He afterward built a sloop called the Sarah F. Gray, which he brought down the Columbia river. In July, 1861, he went to Portland and afterward to The Dalles and engaged in freighting on the Columbia and Snake rivers. Again he turned to Astoria and took up his abode upon a farm where his wife died, while he passed away at the home of his daughter, Mrs. J. Kamm, in Portland.
Unto Mr. and Mrs. Abernethy were born thirteen children of whom three died in early life: George Henry, who passed away at the age of ten years; Mary, who died at the age of one year; and Priscilla, at the age of three years. The others are; Anna May, the wife of B. W. Starr, of Tacoma, Washington, in the office of the Shasta Limited; Caroline A., the wife of the Rev. H. F. Burgess, of Sunnyside, Washington; William Gray, who was in Alaska for eleven years and is now a mining engineer living in Tacoma, Washington; Edwin P. S. A., who is running a mill in Coos county; Violet 0. G., the wife of Bennett Swanton, a lawyer of Marshfield, Oregon; Daisy S. F., who is the twin sister of Violet and the wife of Archie Hahn, of Whitman College, of Walla Walla, Washington; Pearl Dunning, the wife of M. C. Miller, of Dora, Oregon; Frances Mary, the wife of A. T. Hahn, a mining engineer with the Colorado Fuel & Iron Company of Portland; Camilla D., at home; and Mizpah I., the wife of Virgil E. Waterman, of Welches, Oregon.
Such in brief is the history of William Abernethy, yet it tells little of his real experiences for he lived in this state long before its admission to the Union. At the time of his arrival here the major part of the great forests were uncut, the natural resources of the state were unimproved and the Indians far outnumbered the white settlers. Here and there a little settlement was to be seen and the seeds of civilization planted by the early residents have born rich fruit. Mr. Abernethy has not only been an interested witness of all the changes which have occurred as the years have gone by, but has ever borne his part in the work of public improvement and upbuilding.
Transcriber's additional notes:
This same biography also appears in....
"Oregon Pictorial and Biographical"
by Joseph Gaston
S. J. Clarke Publishing Co.; Chicago; 1912
Page 275
****************
Submitted to the Oregon Bios. Project in January 2009 by Diana Smith. Submitter has no additional information about the person(s) or family mentioned above.