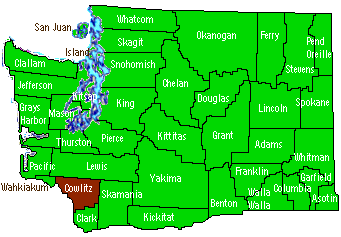 About the Washington GenWeb Project
In March and April, 1996, a group of genealogists organized the Kentucky Comprehensive Genealogy Database. The idea was to provide a single entry point for all counties in Kentucky, where collected databases would be stored. In addition, the databases would be indexed and cross-linked, so that even if an individual were found in more than one county, they could be located in the index.
At the same time, volunteers were found who were willing to coordinate the collection of databases and generally oversee the contents of the web page. The Washington Gen Web Project is part of the USGenWeb Project, an extension of the KY Gen Web Project.
The State Coordinator for the Washington GenWeb Project is Mike Sweeney. The County Coordinator for Cowlitz County is Jenny Tenlen
---
Using this website: Please use the links on the left to explore the Cowlitz Co., WA GenWeb site. Or click on the "Search" link to search for specific names and places. I welcome contributions to the website - queries, primary-source material, transcriptions, photographs, family histories, etc. Please e-mail Jenny for more information.
Special note: I regret that I am unable to do research on your families. I do not live in Cowlitz County, and no longer have time to visit the library in Seattle to answer queries. I am happy to direct you to resources that will help in your search. We also have a number of Lookup Volunteers who are able to assist in your search.
---
Featured Links