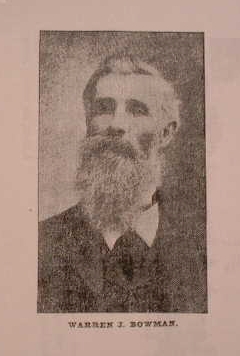 Warren J. Bowman was step-son of Taylor L. Rue, and son of Lydia Bowman Rue. His family were early settlers along the Cowlitz River, arriving in 1850. His half-sister, Annie Rue Shorey, is listed with her husband, Hiram Chadbourn Shorey, in the 1870 Census for Cowlitz Co., WA). Dennis Larsen has contributed transcriptions of several biographical items regarding Warren J. Bowman, including his first-hand account of the journey from Illinois to Washington in 1850.
(Each of the following items will automatically open in a new page of your browser. To return to this page, close the new window.)
Submitted by: Dennis Larsen on 27 Mar 2005.