Doug Andrijasevich submitted the following postcards taken of Centralia. See Below for the story behinds these postcards.
Centralia Depot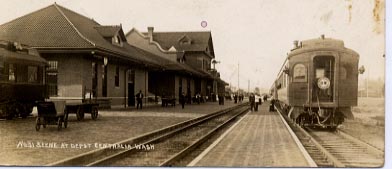 Tower Avenue, Centralia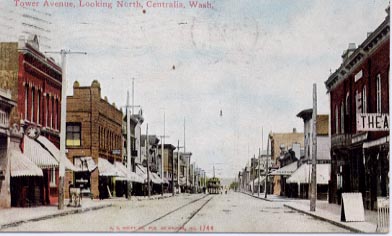 The pictures are from my mothers side of the family. Her maternal grandmother came to the area about 1912. Her father and mother came not long after. Her paternal grandparents followed a little later. Other aunts, uncles, etc. wandered in and out of the area over the next few years. Grandmothers sister was a nurse in the Hospital her brother worked in a cold storage building. Times were hard then, no work so people moved to where they could find work. My family ended up in Aberdeen first and finally settled in Montesano. My great grandfather kept a lot of letters, postcards and news paper clippings he received. My grandmother continued to collect things. This was all passed to my aunt about 20 years ago. She passed away in May and I now have the collection. There is about 200 letters, one going back as far as 1854 in Fayette Co. PA. and a large collection of postcards, some used, some not. There are 5 old family bibles and over a hundred old phots, some with names. All of this is in two big trunks. I'm slowly going through everything and arranging it. I've started to type the letters into the computer and will put together a small book for the family with the letters and a few other things. I have about 75 done and am up to 1920. One of the letters from my great Grandmother describes Centralia in 1916 with the Wobblies in town among other things. I found an old receipt for something where Chehalis county was crossed out and Grays Harbor Co was written in.
My father's father was in the Alaska gold rush, came back to Seattle and settled in Aberdeen in 1904, brought his bride over from the old country in 1908.
View more of Doug's photos.