The following information was contributed by LaVonne Schoneman.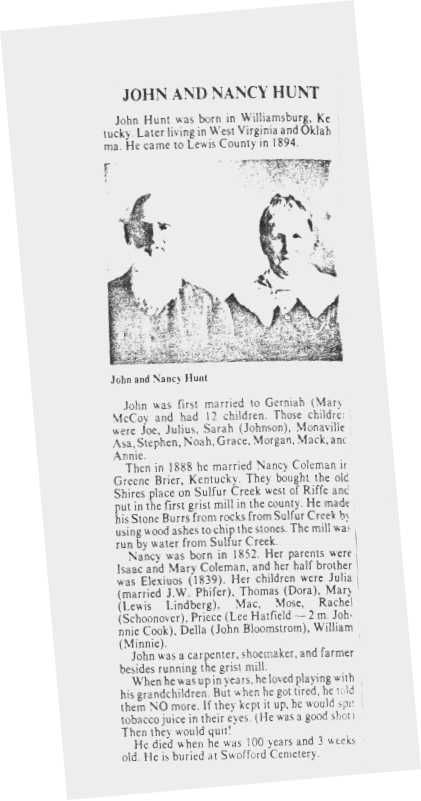 Transcription:
"John Hunt was born in Williamsburg, Kentucky. Later living in West Virginia and Oklahoma. He came to Lewis County in 1894.
John was first married to Gerniah (Mary) McCoy and had 12 children. Those children were Joe, Julius, Sarah (Johnson), Monaville, Asa, Stephen, Noah, Grace, Morgan, Mack and Arnie.
Then in 1888 he married Nancy Coleman in Greene Brier, Kentucky. They bought the old Shires place on Sulfur Creek west of Riffe and put in the first grist mill in the county. He made is Stone Burrs from rocks from Sulfur Creek by using wood ashes to chip the stones. The mill was run by water from Sulfur Creek.
Nancy was born in 1852. Her parents were Isaac and Mary Coleman, and her half brother was Elexious (1839). Her children were Julia (married J. W. Phifer), Thomas (Dora), Mary (Lewis Lindberg), Mac, Mose, Rachel (Schoonover), Priece (Lee Hatfield - 2 m. Johnnie Cook), Della (John Bloomstrom), William (Minnie).
John was a carpenter, shoemaker, and farmer besides running the grist mill.
When he was up in years, he loved playing with his grandchildren. But when he got tired, he told them NO more. If they kept it up, he would spit tobacco juice in their eyes. (He was a good shot) Then they would quit!
He died when he was 100 years and 3 weeks old. He is buried at Swofford Cemetery.