The following photo was taken by Tami Moorcroft and contributed by LaVonne Schoneman.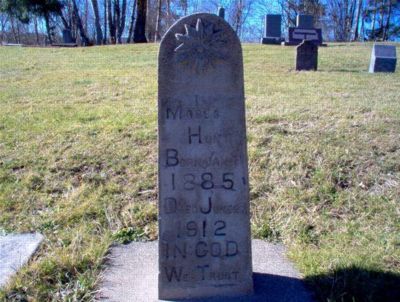 Marker reads:
"Moses Hunt
Born Jan 11 1885
Died June 27 1912
In God We Trust"
OBITUARY
Source: "Centralia News Examiner", 28 Jun 1912.
MOSE HUNT RUN OVER BY ENGINE

Receives Fatal Injures While Trying to Ride on a Logging Locomotive Deceased Is a Brother of Mrs. Schoonver, Who Lives on Coal Creek

CHEHALIS, June 27 - About noon today Mose Hunt was killed in the woods, while he was trying to ride the logging engine of the Coal Creek Lumber company. The engine was in motion, going from the camp to the timber after the crew had had dinner. Hunt attempted to mount the engine while it was running, and lost his footing. He was thrown under the engine and killed.

He was not caught on the rails, but was caught between them. His foot slipped on the step and he could not recover his balance. The body was doubled up under the engine, the back broken and several ribs crushed. He lived but a few minutes and never regained consciousness. It was necessary to jack the engine off the body. A coroner's inquest was held this afternoon.

Hunt was 23 years of age and unmarried. He was a brother of Mrs. Geo. Schoonover, who lives on Coal creek and a sister also resides in Centralia.

(Obituary contributed by Brenda Catanzano and LaVonne Schoneman)
Moses Hunt was the son of John and Nancy Hunt, who were LaVonne's great-grandparents. More information on John and Nancy Hunt can be found here.